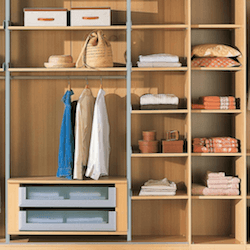 Speaking from experience I can understand why so many of my friends have found the transition from living in a spacious house, to relocating into a more compact residence, very difficult and challenging.
There just does not seem to be enough room to put all of your stuff.
It is quite confronting to discover that as a human being, we are the eternal gatherers. Be it a few pieces of artwork from our children's early years in kindergarten or the wedding dress, bouquet and top tier of the wedding cake that was never eaten on the first anniversary, we all have a tendency to collect and gather!
So apart from the obvious culling of our belongings, especially big pieces of chunky furniture that serve no purpose other than to store more stuff, it is time to consider a complete new fit out. No not, out fits for you to wear, but a new fit out for the apartment, starting with the bedroom of course, because you really are not going to be happy giving away most of your fabulous clothes and accessories.
By starting in your bedroom, a lot of extra space can be found by getting rid of bulky bedheads and side tables, tallboys and so on.
A clever built in wardrobe with matching storage units built around the master bed, will double the amount of storage for your clothing and accessories. This design is often used on a smaller scale in caravans and is especially effective when used in a full height version in an apartment bedroom.
You can also enhance the ambience of the bedroom with mirrored robe doors and attractive lighting fixtures.
The space beneath your bed is best utilised for the storage of items that you do not need to use regularly, and of course there will be less floor needing to be kept dust free and clean.
Flexi Custom Wardrobes In Perth
Taking a look at the inside of a Flexi custom built wardrobe is a real eye opener. Some of the most amazing ideas are used to create innovative, storage ideas to meet the varying needs of different people.
Flexi wardrobe designers and manufactures have been creating unique custom wardrobe storage solutions for their satisfied customers in Western Australia for decades,
With a Flexi custom built robe, customers can expect:
Finest quality workmanship
Strong shelving
Friendly and courteous staff
Punctual delivery and installation
Experienced Flexi storage designers who listen and create the ideal storage solution for their personal needs
A vast selection of custom built robes, cabinetry, fixtures, custom sliding or hinged wardrobe door, and wardrobe fittings
Colour and style choices in robes that will compliment your home
Qualified tradespeople who demonstrate care and consideration
The finest robes that WA has to offer
With industry experienced Flexi storage designers and qualified tradespeople who treat your home with respect, installing Flexi wardrobe selection and design is a stress free and enjoyable experience.
For more information on how easy it is to transform the storage space in your bedroom, contact the team at Flexi on (08) 9301 4200.
September 24, 2018