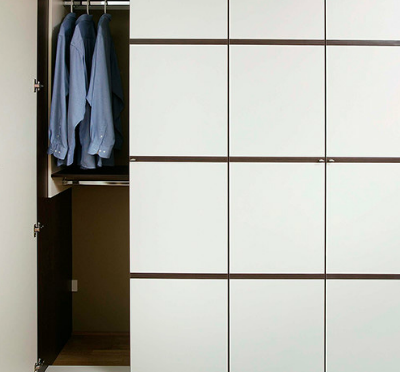 Time To Update
Unless you have been lucky enough to design your own new, modern home in, you will most likely be stuck with one of the old-fashioned wardrobes in Perth. These are the wardrobes that are built into your bedroom with just one horizontal rail and with space above and below for your other belongings.
Twenty or thirty years ago in Perth this style might have been fine, but in the modern world, these cramped and disorganised wardrobes in Perth homes no longer suit our lifestyles. This is why so many home owners who purchase or build brand new houses demand the inclusion of custom wardrobes, because to them, it is simply common sense.
Why Customers Prefer A Custom Wardrobe In Perth Homes?
There are a number of reasons why home owners are being more particular with the design of their bedrooms, wardrobes and ensuites. At one time, most of us just 'made-do' with the existing layout of our bedrooms and wardrobes, but today we are so busy that we need our homes to not only reflect our lifestyles, but to enhance it as well.
The bedroom, wardrobe and ensuite is our personal sanctuary within the security of our home and we want to feel safe and comfortable in this environment. To achieve this comfort we need a bedroom that is devoted to sleeping and to pleasure with a stylish and spa-like ensuite and a separate wardrobe with ample storage that holds all of our clothes and personal belongings.
We don't want a cramped, overflowing wardrobe where we can't find anything and you can't close the doors properly. We don't want a wardrobe that spills out into our bedroom, making it feel more like a laundry or a junk room than our Zen-like sanctuary.
What we want are clean, neat and organised wardrobes in Perth homes with plenty of storage, which are large enough to hold all of our clothes, shoes and accessories comfortably. Surely, this is not too much to ask for – is it?
[h3] The Solution To Cramped, Overflowing Perth Wardrobes
The solution is to call us at Flexi Wardrobes and we will visit your home and help you to plan your new wardrobe. We can design and install a beautiful new wardrobe in your current home or the new home you are building.
All of our wardrobes are customised to our client's specific needs and you will be amazed at how more organised your daily life becomes when you no longer have to fight your way through your wardrobe every morning.
We have a range of styles, fittings and furnishing available to you and we can design a wardrobe that is perfect for your lifestyle and your budget.
For information on our customised wardrobes in Perth or to set up an appointment with our designers, call Flexi Wardrobes on 08 9301 4200 or complete our online enquiry form.
April 21, 2016