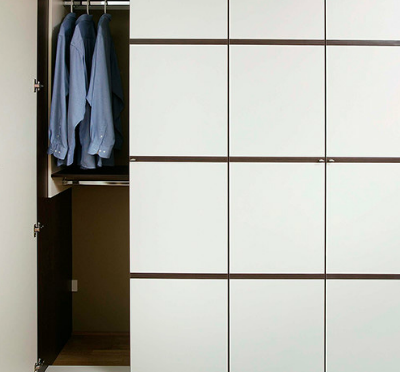 Wardrobes can make a statement
In many homes in Perth, wardrobes are more of an afterthought, simply providing storage space in the bedrooms. This is a shame, because a fitted wardrobe can be a wonderful design statement, adding elegance and style to your bedrooms.
Some people prefer a standalone wardrobe, but this type of  wardrobe rarely fits the intended space properly and tends to collect dust on the top, which if not annoying – can be a health hazard.
At Flexi Wardrobes, we have three different wardrobe styles available for your home, so let's look at 5 great benefits of installing a Flexi Wardrobe in your bedroom.
Built by master craftsmen
All of our wardrobes are designed and built by master craftsmen, who know how to combine functionality and style into your wardrobe. The majority of built-in wardrobes you find in many homes are mass produced and based purely on functionality – they give you space to store your clothes. We know however, that the design and style of your wardrobe is also important, which is why we have master craftsmen on our team.
Designed for optimising useable space
When you are at the top of your craft, you know how to design a wardrobe that maximises the available space and looks good as well. Most of your bedrooms are not huge, they are just a comfortable size, so it is important to have as much wardrobe storage as possible – without making your bedroom feel crowded. Our wardrobe designs use every inch of space, so you have the maximum amount of storage possible.
Quality materials and fittings
Our robes and wardrobe doors are manufactured using only the very best and highest quality materials. We want your wardrobe and wardrobe doors  to not only be functional and stylish, but to last a long time as well. With our hand crafted wardrobes and doors you know that you have a quality product that will compliment your style and you will be proud to show off to your family.
Your choice
The choice is up to you! We can create your wardrobes to have as much hanging space as you need with plenty of shelves and space for shoes, with or without doors. You might want some of the shelves to be on view for easy access or for displaying your accessories, but whether or not you have doors – all of your wardrobes will look stunning side by side.
Built in or walk in robes
We can custom design your robes to be built-in or walk-in, again the choice is up to you. If you have the space, then a walk-in wardrobe is the height of luxury, but our built-in robes are the next best option.
Our custom designed wardrobes are very affordable, so if you want to book a private consultation in your home, contact  Flexi Wardrobes Perth on 08 9301 4200 or complete our online enquiry form.
November 2, 2015