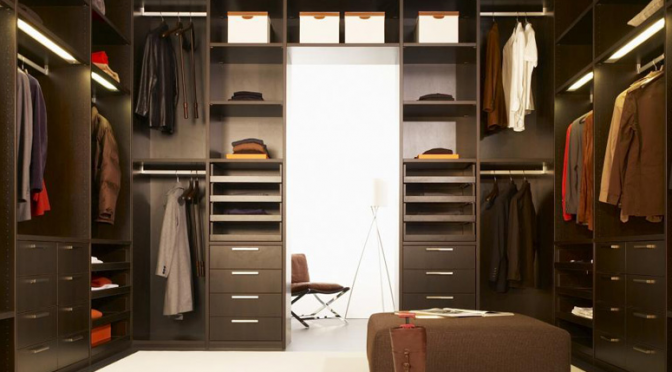 The Walk In Wardrobe
Who doesn't want a fabulous walk in wardrobe n their home? Just imagine not having to squash everything into your wardrobe and having enough storage space for absolutely everything!
Of course you need enough space in your home to design and install a walk in wardrobe, but even if you have to jig a few walls around, the extra work will always pay off in the end.
So here are 5 reasons why it might be time to treat yourself to a wonderful walk in wardrobe.
More hanging space: Regular built-in wardrobes are always too small for all of our hangers. We end up crunching everything together, creasing our clothes and doubling up on hangers due to a lack of hanging space. A walk in wardrobe gives you oodles of glorious wardrobe storage space to hang your clothes and you can see everything at a glance.
A dressing room: You can even include a dressing table and draws in your wardrobe, so that you can get ready without being seen by anyone else in the house. Add a comfortable chair, table and a few power points and you can do your hair, makeup and even shave your legs in your dressing room.
Space for shoes: Having enough room to store all of your shoes is one thing, but being able to see all of them arranged on open shelves in your walkin wardrobe is pure heaven. There won't be any more rummaging in the bottom of your wardrobe to find your shoes, because your walk in wardrobe will have them all clearly on display.
Storage for accessories: You can have drawers for your jewellery, shelves for your hats and hanging space for scarfs and belts in your walk in robe, making your life so much less stressful and far more pleasurable.
Storage for other items: We always have large or bulky items that we just don't know where to store in our homes. They might be too expensive to store in the garage, so you end up filling your built-in wardrobes with items that take up too much space, simply because you have no other solution. With a well-designed walk in wardrobe, you can include extra storage space specifically for these items. So you can keep your skis and bulky winter wear safe in your wardrobe, as well as other sports gear and cumbersome items.
So if you want the extra space for all of your clothes and you want super organisation, then you have no excuse not to treat yourself to a fabulous walk in wardrobe.
Call the professionals at Flexi Wardrobes on 08 9301 4200 or complete our online enquiry form and we will give you a free quote on your new customised walk in wardrobe.
August 2, 2016