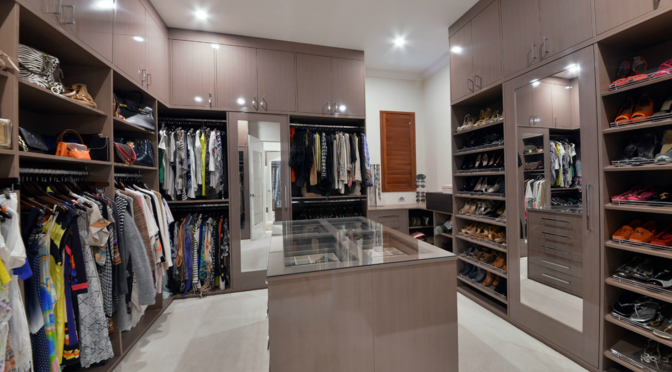 One of the most well-used items in the bedroom is the wardrobe.  The right wardrobe design can transform a Perth bedroom that is small and cluttered into a haven of peace and tranquillity.  It is essential to establish the right balance of style and comfort in the bedroom.  Wardrobes should be designed carefully with consideration and planning.  Here are some tips on choosing the right wardrobe for the bedroom.
1. Mirrors make a difference
Mirrors are a great addition to a new wardrobe.  Not only do they look sleek and modern, they can make a bedroom or wardrobe feel a lot bigger and more spacious.  Mirrors on a wardrobe can also make a bedroom feel lighter as they reflect light, giving the room a fresher feel. Mirrors on the wardrobe also have a functional use in the bedroom as most people like to see how they look before they go out.  If the bedroom is small, sliding mirrored doors are a good way to make the bedroom feel bigger.  For a walk-in wardrobe, a design that includes mirrors inside the wardrobe look fantastic.
2. Finish it off
The difference between a plain looking wardrobe and a wardrobe that the whole neighbourhood talks about can come down to something as simple as the finish.  There is a wide selection of colours and materials to select from when designing a wardrobe.  The colours and materials of the wardrobe should be carefully chosen to compliment the decor of the room.
3. The doors
Doors on a wardrobe are very good at hiding clutter.  While it may be cheaper to choose a wardrobe without doors, having a door can be the difference between an unattractive bedroom and a beautiful, inviting bedroom.  Doors should be carefully selected to enhance the overall look of the bedroom.  Speak to The team at Flexi Custom Wardrobes to find out about their great selection of doors available.
4. Storage
Storage is an important consideration for a new wardrobe design.  One must think about what the wardrobe will be used for.  Are there any large items that will be stored in the wardrobe?  Is the wardrobe just for clothes and shoes or additional items?  How many people will be using the wardrobe?  When it comes to a wardrobe, it is always best to make the most out of the storage available.  Moveable shelves, hanging rods, hooks and organisers are perfect for maximising storage in wardrobes.
5. Budget
Budget is always an important factor when it comes to selecting a new wardrobe.  Most people want a wardrobe that looks amazing, has heaps of storage and is really functional – without emptying the savings.  Flexi Custom Wardrobes offer a HUGE selection of wardrobes to suit ANY budget. They take pride in building quality wardrobes at a competitive price.
6. Space
Most people would love a large, spacious walk-in wardrobe.  The sad reality, however, is that many bedrooms don't have the room for something so luxurious!  An important consideration when choosing or designing a wardrobe is how much space is available in the bedroom.  Flexi Custom Wardrobes are professionals in the wardrobe business and know how to make the most of the space available.  Most people are amazed at how innovative and creative their wardrobes designs are.
Flexi Custom Wardrobes have been helping people transform their Perth home with their beautiful wardrobes for many years.  Contact Flexi Custom Wardrobes in Perth to find out more about their stunning selection of wardrobes on ph 08 9301 4200.
May 10, 2018