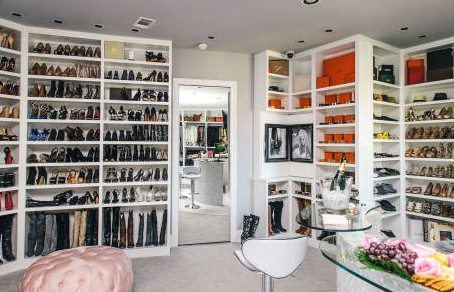 Would you love to have your very own custom wardrobes in your brand new home? Of course you would, who would not want to have luxurious wardrobes that have been designed specifically for their own personal clothing and accessory storage.
It is very easy and affordable to achieve when you are designing your brand new home.
Your builder can easily help you, it is a matter of converting a minor bedroom or study that adjoins the master bedroom at the front of the house plan, or for those who prefer to have the master suite at the rear of the home, they can convert two minor back bedrooms into one super sized master suite that will have plenty of room to include a dressing room and luxury bathroom.
It is all about using the existing space under the main roof, in the floorplan that you can afford, and then by thinking outside the box you can include the personal little extras to create your dream wardrobe.
These days, there is so much wasted room under the main roof of modern home designs, with formal dining, casual eating, study, guest bedrooms, utility rooms, family rooms, lounge rooms, sewing rooms and theatre rooms, surely one of them can go and be replaced with a spacious master bedroom which comes complete with luxury spa ensuite and dressing room, now that surely has to appeal.
A home that has a stunning feature such as a hollywood master suite is sure to please the most discerning of home buyers, and therefore if you build your brand new home with clever inclusions that do not cost an arm and a leg, you will reap the rewards both now and further down the track if you decide to sell your property.
Custom Wardrobes For Clever Storage Solutions
For some surprising and innovative storage ideas, contact the team here at Flexi wardrobes in Perth, W.A.
We have been designing clever wardrobe storage systems for many years and we pride ourselves on our attention to our customer's needs. We always strive to deliver the results that our customers expect and deserve.
All of our staff are professionals, experienced in designing, building and fitting beautifully functional custom wardrobes.
From the very first call, to the moment we close the door after your installation is complete, we are committed to delivering the best customer service, and attention to detail, therefore the quality of our product is outstanding.
Add A Door For Extra Privacy And Security
For extra privacy and security, the addition of wardrobe doors is a must, and when done well, they will enhance the overall ambience of your bedroom.
Selecting the right door involves careful consideration about the final look you wish to achieve as well as the way the wardrobe door will compliment the other décor in the bedroom, so take advantage of the expert advice from our wardrobe designers to achieve the first class results that you are expecting.
Now is the time to make your dream wardrobe come true, book your appointment today by calling us on (08) 9301 4200.
October 4, 2017