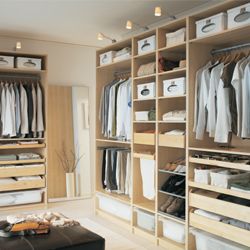 When looking to buy a new home the first rule of thumb is Location, Location, Location.
This is closely followed by storage, storage, storage!
As human beings we do tend to gather a lot of stuff, more stuff and extra stuff, and especially in our bedrooms.
The endless collection of clothing, accessories, hats, matching bags, shoes, scarves, belts and jewellery…… and that is just his stuff!
Is it any wonder that the old style basic shelf and rail wardrobe is no longer practical in a modern home.
These days when looking at building a new home, it is a wise idea to extend the size of your master bedroom to allow for a custom walk in robe. A good size walk in robe with hanging rails at varying heights, ample shelving, drawers and lighting will be a practical option in place of bulky chests of drawers, bedside drawers and dressing tables.
You can have a spacious bedroom with just a pair of bedside tables for your lamps and wine glasses, or your book and coffee mug.
Your bulky furniture can be sold on Gumtree and go towards buying fresh new bed linen.
Revamping Existing Walkin Robes.
For those of you who need to increase the amount of storage in your current walk in robes, give the team at Flexi Wardrobes a call and arrange for a home consultation.
This is an easy way to discover just how simply, more storage room can be created in your existing robes.
Just as every one has different needs, Flexi understands that all wardrobes are unique. That is why each solution is built to your specific requirements.
Flexi Custom Wardrobes
Flexi custom wardrobe designers are experienced in creating custom wardrobes that fulfil your wish list by:
Allowing room for seasonal storage i.e. winter coats or summer dresses Including tall areas within your wardrobes for the hanging of long ball gowns or suits, 3/4 hanging for pants, long skirts or shorter dresses, half hanging for shirts and blouses
Dedicated space for the storage of sporting gear
Separating his and hers wardrobes if needed
Creating solutions for kid's rooms and linen presses
Displaying and protecting your shoes, bags, ties, belts, scarves and sunglasses with unique built in solutions
Making the best use of space to maximise storage with the flexibility of adjustable shelving and built in storage solutions
Incorporating drawers and locked areas to secure your jewellery and valuables within your wardrobes
Make your appointment today,
contact the team on (08) 9301 4200.
October 7, 2018