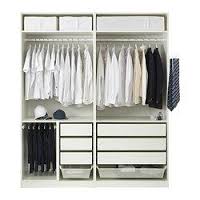 Wardrobes in Perth are no longer just a basic storage closet to keep our hanging clothes in, they are so much more than that with the vast variety of clothing we need storage for.
Those of us who live in cooler climates need extra wardrobe storage for our heavier clothing and our winter coats, scarves and boots.
It is a shame that some of us have to hang several coats over one little coat hook to keep our jackets off the floor.
It would be ideal if each of our jackets could be hung on a separate hangers in our wardrobe rather than squashed underneath another.
The same is said for all of our clothing that needs to be hung in our wardrobes.
Time To Keep It Simple With Wardrobes Perth
If you are now ready to get your new wardrobe storage solutions, it is a great start to contact our team at Flexi Wardrobes Perth.
Flexi have been designing and creating amazing wardrobes for their customers across WA for the past 15 years.
Make The Right Design Choice
With industry experienced storage designers and qualified tradespeople who treat your home with respect, installing a Flexi wardrobe is a stress free and exciting experience.
We make it so easy for you to update your old fashioned wardrobes and replace them with well designed and quality built wardrobes that are custom created just for your particular wardrobe needs.
When installing new wardrobes, shelving or new wardrobe doors for your existing wardrobes, astute customers are looking for:
The finest quality and workmanship.
Strong wardrobe shelving.
Friendly and courteous staff.
Punctual delivery and wardrobe installation.
Experienced Flexi storage designers who listen and create the ideal storage design.
A vast choice of custom built robes, cabinetry, fixtures, custom design sliding or hinged wardrobe doors, and wardrobe fittings.
Colour, design and style choices in wardrobes that will complement the decor in your home.
Qualified wardrobe tradespeople who demonstrate care and consideration while in your home.
The highest quality and innovative designs in wardrobes that WA has to offer.
 Perfect Wardrobe Storage Solutions Is Easy As 123
Now is the ideal time to wander into one of our showrooms and have a really good look at the quality of our products.
Talk to the people from our professional team who will be able to help you with any questions you might have about our first class wardrobes including:
The soft close sliding or hinged doors and drawers as standard on our robes.
The beautiful range of products and finishes.
Our innovative custom ideas for difficult spaces.
Cleverly considered wardrobe layouts.
Our vast choice of styles, designs, products and colours.
For your free home consultation make an appointment with one of our team today on (08) 9301 4200.
July 4, 2017