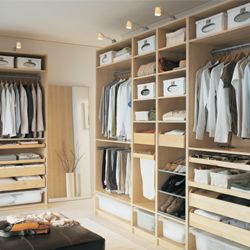 Custom wardrobes really do make a huge difference to your life, especially in the mornings when you are busy getting the family and yourself ready for the day.
If you are not organised properly in the mornings, you will be stressed out in no time.
Apart from getting breakfasts sorted for the kids, there are school bags to check, notes to be signed and of course somebody has lost a shoe!
Another frustrating thing is when you finally get your chance to get dressed, you open your over stuffed wardrobe to try and find your outfit for the day and sure enough, the item you want to wear is all crushed and needs ironing.
Don't you just hate that!
Now if you had decent custom wardrobe storage for all your clothes, you would not have to squeeze your clothes into your wardrobes, instead you could keep them hanging nicely and easily seen when needed.
When you choose to have custom wardrobes, you get to have your wardrobes designed to suit your storage needs.
You might have a lot of clothes that need to be hung in your wardrobe and a lot of drawers for underwear and lingerie.
You may have a lot of accessories with bags, matching shoes, hats and scarves.
Some of us may need extra wardrobe storage for our precious jewellery.
A girl can't have too much bling and how nice would it be to be able to have all your jewellery displayed so you can easily select the pieces that best suit your outfit for the day.
Having wardrobes that are custom designed to suit the way you need to store your clothing and accessories really does make a huge difference in your life.
This is easily achieved when you choose Flexi Wardrobes Perth to custom design and build your new tailor designed wardrobe storage system to meet your specific needs.
Custom Wardrobes Have Many Benefits For Busy People
You have more choices with quality wardrobes and matching wardrobe doors.
You can keep it simple or you can choose go really big and luxurious.
When you change from your old generic, built-in wardrobes and doors that came with the house to a more customised wardrobe system, you will notice a huge difference to your mornings at home.
You may choose to have luxurious high-end finishes on your wardrobes and doors and any combination of wardrobe storage for your clothes, shoes, hats and accessories that you need.
It really comes down to the space you have available, because if you have the space for a walk-in wardrobes, then this is the ultimate in luxury.
Some of us do not have this additional space, however with custom wardrobes and doors, you can still have a super organised wardrobe space for your clothes.
If you are ready for some fabulous custom wardrobes in your home, contact Flexi Wardrobes in Perth on 08 9301 4200 or complete our online enquiry form for more information.
May 15, 2017