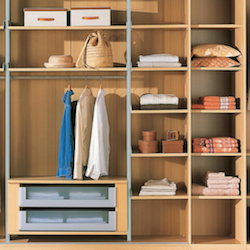 Most homeowners are very happy to have custom built wardrobes in their master bedrooms however the tend to ignore the minor bedrooms.
Everyone needs to have wardrobes in their bedrooms that are practical and well designed.
The fact is that we all have clothing, accessories and personal belongings that need to be stored in an easy to access area.
Everyone has clothing, accessories, bags, and items that need to be stored in their bedrooms.
Children need enough storage for their clothing, toys, books and school paraphernalia that provides safe, easy reach shelving and hanging spaces to children of varying heights.
With clever design and smart storage solutions, it is quite surprising how much available room can be utilised in the minor bedrooms of an average family home.
Teenagers often prefer to do their homework and studies away from the distractions of the television, other family members or that there simply is not enough room at the dining table or kitchen breakfast bar.
Flexi custom built wardrobes are the perfect solution for the student's bedroom because clever wardrobe design can include a compact study nook.
A smart study nook built into the wardrobe space of a student's bedroom is a great way to provide a quiet designated study area and a computer station.
Flexi Custom Built Wardrobes
Flexi Wardrobes in WA have been designing, building and installing custom built wardrobes for many years. They have an excellent reputation for both excellence in product and on going customer service.
If you need are struggling with outdated, inadequate wardrobes in your home, it is time to chat to our team at Flexi and see how easy it is to upgrade from "drab" to "fab" with a smart wardrobe makeover.
You will be very impressed with how easy and stress free an upgrade for your bedroom storage can be.
Our design team and crafts people are very experienced with custom designed wardrobe systems for any size rooms, so you have nothing to lose and everything to gain from chatting to us about what you need in the way of practical, functional and beautiful wardrobes for your home.
We can create a well designed walk in wardrobe which is a beautifully functional area, a haven in which you can store your belongings and take the time to select the things you need.
The design of your Flexi walk in wardrobe will be influenced by:
The amount of space available to walk and move around
The layout of the area within your robes
How many things are to be stored within the walk in robe
The way in which you wish to store your items
Come and chat with us, we are the experts and we want to deliver what you want and need in quality wardrobe storage solutions.
Contact our wardrobe team today on (08) 9301 4200.
February 8, 2018