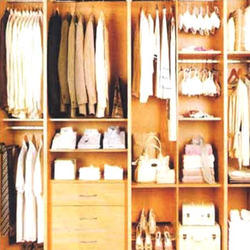 As one of four sisters, I can speak from personal experience as to why custom wardrobes in WA are the answer to a girl's clothing storage challenges.
It is not a case of having too many clothes, absolutely not!
The struggles of an overcrowded wardrobe are simply a result of poor wardrobe design and inadequate storage options. Many of us are finding that we have to use the robe in the spare room because the wardrobes in our own bedrooms are overcrowded.
Regular wardrobes these days do not cater for the varying length of hanging space, easy to reach spaces for folded clothing, shoe storage and accessory display options, necessary to store clothing in an organised, easy to access manner.
Smart Storage Options In Custom Wardrobes
With ample hanging space, various shelving configurations, optional drawers and shoe racks, everything we have can be stored neatly in an organised space.
A clever wardrobe design can save you a lot of time in the mornings. We can waste a lot of time rummaging through a cluttered closet trying to find a missing shoe or the matching belt to a dress we want to wear.
Why smart storage for your clothing will save time and money:
Clothing is expensive and needs to be stored with care
The items that need to be hung are nicely hanging without being crushed next to other clothing
Fabric can be easily damaged when snagged on a zipper or sequins from another garment rubbing against it
Valuable time is wasted when crushed clothes need to be re ironed before being worn
Shoes need to be stored in pairs and separate from anything that may scratch them
Handbags, scarves and hats are best stored safely on wall hooks where they can be seen and easily reached
If you want to save time in the mornings, you may need to invest in a smart custom robe design.
This is so easy with a quick phone call to the team at Flexi Wardrobes.
At Flexi, the team believe in looking after you and making sure you get the very best service at all times.
You will be amazed at the clever storage solutions they have and how smooth the design, build and installation process is.
Contact Flexi on (08) 9301 4200
December 11, 2018