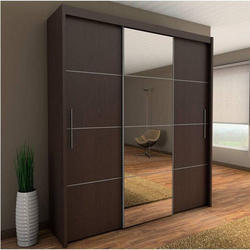 One of the most common complaints about wardrobes is that there never seems to be enough room for your clothes and that everything is squashed together making it difficult to find what you are looking for. When you finally do find the item you were looking for, it is usually very creased and needs to be ironed.
Standard wardrobes in Perth consist of hanging rail under a shelf which means that all of your dresses, shirts, trousers and other items are hung in one place. This will work if you don't have many clothes that need to be hanging. As we continue buying more clothes the problem becomes worse. Sometimes we forget about clothes we actually do have and then go out and purchase something new that is not necessary.
What About Shoes & Accessories?
When your shoes are all jumbled up on the floor of your wardrobe, you also tend to forget how many pairs you actually have. Have you ever found a pair of shoes in the bottom of the wardrobe that you had forgotten all about?
Customised Wardrobe Storage Solutions
The perfect storage solution is a wardrobe where all of your clothes, accessories and shoes are displayed clearly and neatly, a wardrobe where all of your clothes are hung with space to spare and you have all of your shoes on display.
This makes life so easy in the morning, when you can see all of your clothes and shoes. You can just run your hand along the rail and select the appropriate clothes for the day and choose your shoes quickly, because you can see them all.
This will save you time in the mornings, you will not waste time searching for something and then when you do find it, you need to set up the ironing board and press your clothes. This is not ideal when you need to be somewhere at a particular time. Having a well organised robe will save you money as well as time. When you are able to see all of your clothes easily you won't think you have nothing to wear and need to buy more clothes.
Flexi Wardrobes
Flexi have been designing, crafting and installing custom built wardrobes for many years. We believe in looking after our customers and making sure they get the very best service at all times. We take the time to sit with you in the comfort of your own home and work with you to plan out the perfect wardrobe to meet your storage needs.
Choosing Flexi to design and build your wardrobes is choosing to stand out from the crowd. Our selection of designer handles enhance your wardrobe style and our extensive range of colours, available in a matt or gloss finish, ensure that your robe is a reflection of your own unique style, built to perfection.
Speak to our designers about your unique needs and find out how we can help create your custom robes.
Contact us today on (08) 9301 4200 and find out why West Australians keep coming back to Flexi.
January 5, 2017