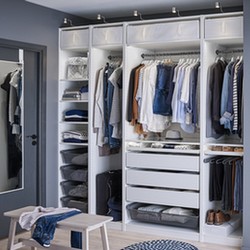 Modern lifestyle choices affect the varied clothing we need and all the accessories that go with them.
Wardrobe storage solutions are an important factor when it comes to being organised and successful.
Custom wardrobes in Perth are on trend with many homeowners realising the long term value in custom wardrobes and clever storage solutions for their bedrooms.
Whether you are planning to build a new home or you need to update your current home, starting with the bedrooms is a smart option.
We all use our wardrobes several times daily, and it can be very time consuming when you are searching for a particular piece of clothing which you just cannot find!
Just imagine how simple your life in the morning would be if you could stand in front of your robes and see all of your outfits neatly hanging, with your folded clothing neatly placed in storage shelves, hats and coats in plain sight and of course all your shoes on display in pairs.
Professional Custom Design Wardrobes In Perth
Practical wardrobes need to be spacious, organised and functional.
Flexi Wardrobes in Perth, WA are the experts in custom wardrobe storage solutions and have many years industry experience in design, manufacturing and installation of fine quality wardrobes in various designs and styles.
The team at Flexi Wardrobes Perth, can help you plan out your walk in wardrobe and wardrobe doors to ensure you have a beautiful yet practical wardrobe that will serve you well for many years to come.
Things to consider when planning your wardrobe design include:
Is for one person or a couple
Do you need to store sports gear or extra bedding
How many drawers are you going to need
What length hanging space do you need
Shoe storage
A safe or lockable cabinet for jewellery and valuables
Adding a door to your walk in robes can add privacy and extra security
Island drawers add extra storage and create a boutique feel
Adding a glass top to your island bench allows you to view your jewellery
Other useful accessories are pull out belt racks, tie racks, trouser racks and valet rods
Smart lighting can make all the difference in a beautifully functional wardrobe
See for yourself how a Flexi Custom wardrobe will compliment your décor and enhance your bedroom.
Contact Flexi and make an appointment with one of the team today on (08) 9301 4200.
May 9, 2019