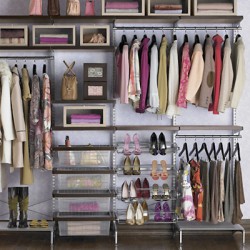 There is a very good reason why customers in Perth are very satisfied with their custom wardrobes that were designed and built by our team here at Flexi in Perth.
Here at Flexi Wardrobes we believe in looking after our customers.
We strive to ensure that they get the very best service at all times.
Most of us have very busy lifestyles and with that comes all the different clothing requirements, which often requires us wearing more than two sets of clothing daily.
Of course we have the clothes needed for work, whether a uniform or smart business attire, the comfortable clothes we like to wear when home after work, the gear needed for sporting activities, our evening dress and formal clothing.
These various outfits that are in our wardrobes, also come with the suitable footwear, bags and other accessories.
It is understandable that the old fashioned wardrobes with hanging rail and shelf are completely inadequate for a busy lifestyle.
It is a must in modern homes, that sensible wardrobe storage solutions for our clothing and accessories are a priority.
Now is the time to do your homework and write a list of everything that you need in wardrobe storage.
You could even include some extras you would enjoy in your perfect wardrobe, just because you can.
Next you need to engage our custom wardrobe specialists, who are well known and trusted to create and install the perfect wardrobe storage solution for you.
It is so easy, no fuss. You just need to know what you want and let us do the rest for you.
Even if you are not sure what you want in wardrobe storage, our very experienced team will be able to show you various wardrobe design ideas and options, keeping in mind what it is that you want and need in clothing storage.
Some Great Reasons To Choose Flexi Custom Wardrobes
1. We will come to your home to look at and measure the space you have available for wardrobe storage.
2. We will sit with you in your own home and work with you to plan out your perfect wardrobe.
3. Flexi have various wardrobe styles available for your home.
4. Our wardrobes are built by master craftsmen.
5. All of our custom wardrobes are designed and built to combine functionality and style into your wardrobe.
6. Designed for optimising useable space, our wardrobe designs use every inch of space, so you have the maximum amount of storage possible.
7. Our robes and wardrobe doors are manufactured using only the very best and highest quality materials.
8. Choose your own combination of hanging and shelf spaces, doors or no doors, the choice
is up to you!
9. We can custom design your robes to be built-in or walk-in, again the choice is up to you. If you have the space, then a walk-in wardrobe is the height of luxury, however our built-in robes are the next best option.
10. Our custom wardrobes are very affordable.
If you want to book a private consultation in your home, contact us at Flexi Wardrobes Perth on 08 9301 4200 or complete our online enquiry form.
April 18, 2017