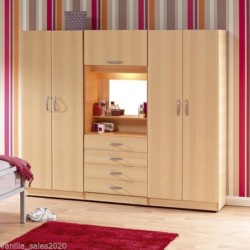 It is time to expand your storage with custom built wardrobes in your bedroom, when you do not have enough room in your wardrobes to hold all of your clothing and accessories. It can be very annoying when your clothing is crushed because everything is crammed in together so tightly.  Nobody enjoys having to  re-iron their clothes before wearing them.
For those of us who live in small apartments which have limited wardrobe storage in the bedroom, there is a need for clever storage solutions that optimise all the available wardrobe space.
Some people try to get by with the old style hanging rail and top shelf wardrobes, however they often end up putting a chest of drawers inside the robe, or a bookcase to store folded clothes or shoes.
Boxes filled with things that are soon forgotten, sit up on the high top shelf, which often requires a ladder or chair to reach.
A clever design will make use of all the available space from top to bottom and allow for easy access as well.
If your bed is on one wall and your robe is on another wall, already you have some great space to be creative with.
Some valuable storage can be created with a clever design that fits either side of your bed, starting from the floor and going all the way up to the ceiling. It only takes up the floor space of two bedside tables, but provides you with so much storage. This is a very stylish option which will provide a handy recess in which to put your bedside lamps, a glass of wine and a photo of your darling loved one if you wish.
This storage is perfect for your folded items of clothing such as underwear, sleepwear and lingerie as well as hats, handbags, jewellery, shoes, fashion accessories and valuables which you need to keep safe.
As for your existing top rail and shelf robe, it can easily be transformed into a truly useful storage space for all your hanging clothes, with plenty of room for them to be stored in a tidy , organised manner and easily seen when needed.
Flexi Custom Built Wardrobes For Small Bedrooms
If you are ready to check out your options for bedroom wardrobe systems, contact the team today on (08) 9301 4200, they understand what you are looking for.
All of Flexi custom built wardrobes are:
Designed to fit your unique needs
Made to measure
Immaculately finished
Installed by qualified tradespeople experienced in wardrobe installations
Beautifully functional
Delivered on time and on budget
The team at Flexi will encourage you to make an appointment for them to visit you at your home. They will use their full colour 3D computer design software, and show you straight away how they can transform your robes, providing you with a wardrobe plan and quote on the spot.
April 30, 2018