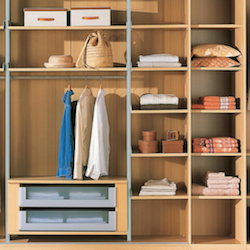 Have you ever dreamt about having all the room you ever needed in a wardrobe? Do you look at the TV screen and drool over the wardrobes of the rich and famous. It is not out of reach, and certainly not as expensive as you would imagine. After all a walk in robe does not need the expensive items such as plumbing, wall to ceiling tiles and expensive hardware.
Generally you will need good lighting and access to power. The rest of the room would be hanging rails, shelving , drawers, mirrors and coat hooks. What you will definately need is some space.
Custom Wardrobes For New Homes
If you buying a new home, look at a design that has an office or minor bedroom backing onto your master bedroom. This is perfect to adapt into an oversized dressing room and robe. It is very easy to do at the planning stage and not expensive.
If you are on a budget , it may be an idea to keep your fit out to a minimum and maybe put your old chest of drawers and dressing table into the dressing room until you find a few extra dollars to add some built in drawers.
Flexi Custom Designs
When thinking about new robes, you need to think about Flexi ! Flexi have been providing the very best of robes for customers throughout WA.
Why choose Flexi for your new robes? A well designed walk in robe creates a beautifully functional space in which you can store and display your belongings and take the time to select the things you need.
The design of your walk in wardrobe will be influenced by:
1. How space available to walk and move around
2. The layout of the space within your robes
3 .How many things to be stored within your wardrobe
4. The way in which you wish to store your items
Adding a door to a walk in design is a very personal choice. However, our experienced team can advise you on the pros and cons of each door for your particular needs. We are very happy to help you find the best combination of open and private spacing within your walk in robe design. Choosing the right wardrobe doors for your built in robes not only enhance the overall look of your wardrobe but also complement the décor in the rest of the room.
Her at Flexi, our extensive range of doors means that you are certain to find a solution that is perfect for you.
Contact our team today on (08) 9301 4200.
February 9, 2017