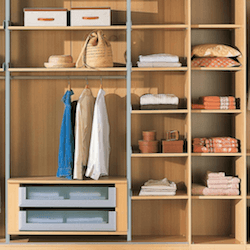 How can you tell if you need custom wardrobes in WA?
There are many signs that you need custom robes including:
The wardrobe doors are not closing properly
There are items of clothing lying on the wardrobe floor
Clothing is squashed together tightly on the hanging rail causing clothing to become crushed and wrinkled
Shoes, belts and accessories are hard to find
There are clothes hanging on door knobs
You have clothing stored in containers under your bed
These are just a few hints that you might need to invest in a custom wardrobe in WA.
Create More Space With Custom Wardrobes WA
You will be amazed at just how much extra storage space can be found when you have custom designed wardrobes. Custom design means that the robes are crafted to suit your particular clothing storage needs.
The team at Flexi Wardrobes in WA will come to your home and sit with you to discuss exactly what it is that you need in a perfect wardrobe.
Exceptional customer service is integral to Flexi's  reputation.
What could be better than having a custom built wardrobe that fits your space perfectly and provides adequate storage for all your clothing and accessories.
By having a specialist in wardrobe design, advise you on your various options, you will become inspired at just what can be achieved in clever wardrobe storage solutions.
Don't forget the kids either, if they have spacious well planned robes in their bedrooms, you will ultimately find it easier to keep track of their clothing items including school uniforms, hats, bags and sports equipment.
The team from Flexi will illustrate robes and door solutions that could resolve your most difficult challenges and create a 3D computer model of your new wardrobe design on the spot, and also provide you with an instant quote for shelving, sliding or hinged doors, robes for smaller areas or spacious walk-in robes.
Make an appointment with one of their team today on (08) 9301 4200 to find out how they can design your custom wardrobes and transform them into a beautifully functional space by:
Complementing your lifestyle
Enhancing your bedroom space
Incorporating clever built in solutions to make your life easier and more organised
Flexi gives the best quotes for robe solutions that W.A has to offer.
By combining your dreams with their experience, comprehensive knowledge and extensive range of fixtures and fittings, they will then create a 3D computer model of your wardrobe, bringing your vision to life.
Because they do all this in your home, at no cost to you, you are easily able to visualise your new wardrobes before they are even installed.
Adjustments, alterations or additions can then be made on site, on the screen until you are entirely satisfied with the result and confident of the outcome.
Contact them today on (08) 9301 4200
October 30, 2018