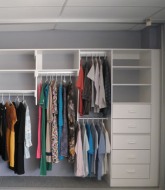 Flexi Wardrobes in Perth have been serving the Perth community and helping them with their wardrobe needs for many years.  They are known for designing and creating custom wardrobes specific to the customer's needs.   When it comes to wardrobes for children, Flexi Wardrobes have some great suggestions for creating beautifully functional wardrobes.  Their years of experience in wardrobes have given the team insight into what works well for children and their families. The team at Flexi Wardrobes believe in looking after their customers.  They take their time to listen to what the customer needs in their wardrobe and then provide some helpful suggestions.  The end goal is to make sure the customer gets the wardrobe that they want while getting the very best service at all times.   Here are a few tips for creating beautifully functional wardrobes for children.
Strong and durable
Anyone that has young children can understand why one of the most important features of a child's wardrobe should be that it is strong and durable!  Most children can be a little rough at times with their bedroom furniture.  Cupboard door hinges on wardrobes should be strong as children have been known to swing on doors!  Drawers and shelves in the wardrobe should be strong as well in case children try to use them as a climbing frame!
Easy to clean
Children are well known for their grubby little fingers that leave marks on things like wardrobes, walls and doors.  Then there are the kids that like to draw or paint on wardrobes.  Kids are messy, there's no doubt about that.  When designing and creating a new wardrobe for a child, it is important to select materials that are easy to keep clean.
Accessible for kids
Most parents encourage their children to be somewhat independent.   This is especially the case as children grow and become more mature.  The team at Flexi Wardrobes understand this, which is why they recommend designing children wardrobes in a way that allows children to access their belongings.  Drawers should be kept low, small and shallow.   Deep drawers can make it hard for children to find things and things can get lost in the back.  Open shelving in the wardrobe makes it easier for children to access their belongings and is a great way to help keep their bedroom tidy and organised as they can put their own things away.  Higher shelves or drawers are also handy for storage of things that parents want to keep out of reach of children such as seasonal clothes.
Adjustable clothing rods and shelving
Adjustable clothing rods and shelves are the perfect solutions for growing children.    As the children grow older and get bigger, parents can move rods up and allow for bigger spaces.  Wardrobe and storage needs tend to change for children as they grow up.   Therefore it is important that the wardrobe can be adjusted to adapt to growing children needs.
The team at Flexi Wardrobes have been designing and creating wardrobes for children in Perth for years.  They understand and appreciate the small differences that need to be considered when building wardrobes for children.  Contact Flexi Wardrobes in Perth today.
July 3, 2018