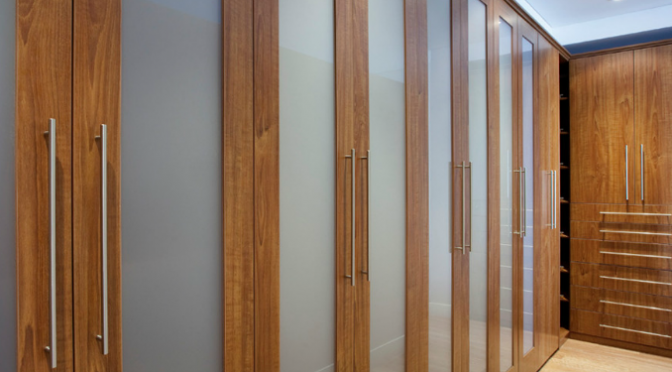 Wardrobe Doors make Sense
Over the past few years, the open plan concept has gone too far and many people have not even bothered to install  doors on their walk-in robes. Some home owners might still like this idea, but let's be honest, who wants to see the insides of their robes from their bed?
Doors help to keep everything hidden away, so your bedrooms always look neat and tidy. The other benefits of installing wardrobe doors on your walk-in robes is that all of your belongings are kept safe and sound. You can actually have lockable doors on your robes, so little one can't wander through, pets are kept out and burglars have another barrier between them and your valuables.
4 Different Types Of Robe Doors
You can install hinged, bifold or sliding doors, as well as mirrored doors.  The choice you make will depend on the size of your bedroom and whether you have enough room for regular hinged doors to open fully. Also, your interior design and personal preferences will play their own part in selecting the right doors for your robes.
Bifold doors: These are ideal if you don't have much space between the bed and your walk-in robe, as they fold back on themselves and hardly take up any room. You can have solid or louvered bifold doors with the latter providing an interesting design style to your bedroom.
Sliding doors: If you don't have much room for doors to open, but you do have the wall space, then sliding doors are a great solution. Barn doors are really on trend right now, so if your interior design can take this type of style, sliding barn doors make a massive impact on the look and feel of your bedroom. Add a matching door for the ensuite and you have a very modern and stylish décor for your bedroom.
Hinged doors: These are the normal type of doors that we have around the home and you can have just a single hinged door or double hinged doors on your walk-in robes. We can match the style of the other doors in your home, so it all looks co-ordinated.
Mirrored doors: Some people feel that mirrored robe doors have gone out of fashion, but they add a huge amount of light to your room and make your bedroom appear larger, which is fabulous in darker spaces. They are also very practical, because you have a full length mirror that we all use every single day when we are dressing in the morning.
So if your walk-in robes have a gaping hole instead of beautiful, functional and stylish robe doors, call Flexi Wardrobes on 08 9301 4200 or complete our online enquiry form and we will add some serious style to your bedrooms.
July 20, 2016