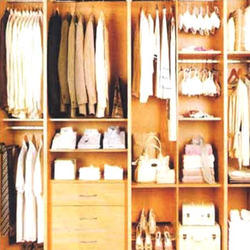 It is easy to get organised in the mornings when you have great wardrobe storage to keep all your clothing neatly stored in, ready to wear at any time. So feel free to change your mind about what to wear, you have time, because everything is ironed and ready to wear.
The word wardrobe itself suggests a "room for clothes". Yes, clothes, not all the other stuff that is often found squeezed into an already limited space.
If you need to get organised, a great place to start is with your mornings…finding clothing requirements for the day.
If this is a challenge, it would then appear that your robe needs decluttering, or you simply need a smarter wardrobe design.
The Perfect Wardrobe Solutions Start With A Clever Design
Flexi Wardrobes in WA are the wardrobe specialists and have been designing and crafting wardrobes for many years. They can custom build any type of robe you want and to suit any budget.
The team from Flexi have been finding wardrobe storage solutions for their many satisfied customers, who keep returning with more repeat business.
Exceptional customer service is integral to their business and that is one of the reasons that the team from Flexi take the time to come to you in your home to:
Take exact measurements of the robe space you have available
Discuss your storage needs and options while you are in the area itself
They will Illustrate wardrobes and door solutions that could solve your most difficult wardrobe challenges
Create a 3D computer model of your new wardrobe design on the spot and give you an immediate quote for shelving, doors and accessories.
Provide the best quotes W.A has to offer
Choosing The Right Doors For Your Wardrobes
Beautiful doors not only enhance the overall look of your robes but also compliment the décor in the rest of the room, and because wardrobe doors vary with personal taste, Flexi extensive range of doors means that you are certain to find the door that is perfect for your robes.
Flexi's Extensive Range Of Wardrobe Doors Include:
Clear glass doors
Frosted glass doors
Mirrored doors
Wood grain doors
Panel doors
Aluminium doors
Carved doors
Gloss or matt finish
Coloured
White
Combination (such as grain, gloss or glass combinations)
Contact Flexi today on (08) 9301 4200 and find out how they can transform your wardrobes and storage needs into a beautifully functional space.
February 25, 2019