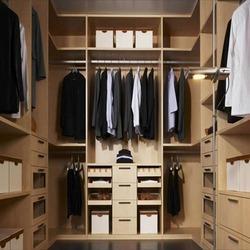 Have you considered having custom wardrobes designed for your own personal wardrobe storage needs?
I am just one of many busy people who have various clothing changes during the course of a day, that's a lot of clothes for just one person.
Many of us have jobs that require us to dress in a smart business style through the week, go to the gym a couple of times a week, go out for dinner on the weekends and hang around the house in our daggy clothes on Sunday.
This is a lot of outfits and accessories to match. Even our daggy Sunday clothes have the daggy accessories to match, you know the worn out track pants, shrunken tee shirt and balding fluffy slippers, all of these items need a home as well.
The common, basic wardrobe design of hanging rail and top shelf are just so inadequate today and we all know how hard it is to fit everything into that space in an organised manner. Of course you can put some of you clothing into storage boxes under your bed, only to forget what you put in there at a later date.
Storage Solutions In Custom Wardrobes Perth
It goes without saying that the walk in robe really is the most user friendly option when it comes to clothing storage, with ample hanging space, various shelving configurations, optional drawers and shoe racks, everything we have can be stored in an organised space.
Flexi wardrobe designers can design a clever storage system for all your clothing and accessories, saving you valuable time in the mornings.
We can waste a lot of time rummaging through a cluttered closet trying to find a missing shoe or the matching belt to a dress we want to wear.
Of course if the dress is creased, then we spend more time ironing it.
It is an easy solution to your storage challenges, if you just pick up the phone and arrange for a team member to come to your home and look at what your options are and the best way to achieve it.
The team at Flexi, believe in looking after you and making sure you get the very best service at all times. They will take the time to sit with you in the comfort of your own home and work with you to plan out the robe of your dreams.
You will be amazed at the clever storage solutions they can offer you and how smooth the design, build and installation process is.
Contact the team at Flexi on on (08) 9301 4200
November 26, 2018