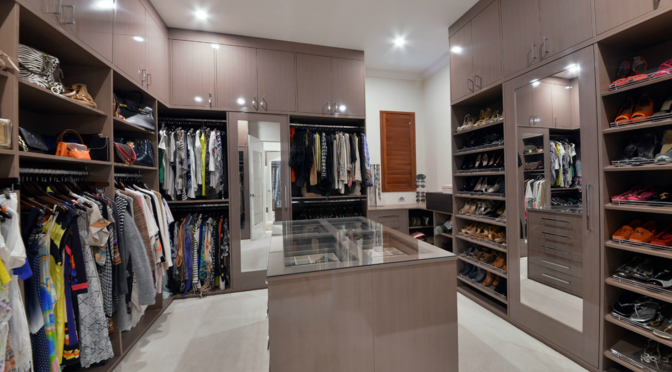 Are you dreaming of a walk in wardrobe that will rival Cher Horowitz's computerised closet from "Clueless"? Perhaps you'd like to channel your inner Carrie Bradshaw and "have your money where you can see it, hanging in your closet"?
Flexi Wardrobes Perth can help you plan out your walk in wardrobe and wardrobe doors and ensure you have a timeless wardrobe that all your friends will envy! Here are some expert wardrobe tips from Flexi's Perth Wardrobes walk in wardrobe designers to help  create your amazing your walk-in wardrobe  and doors for your robes become a reality.
Think about who will be using the robes. Designing a walk in wardrobe for one person in Perth can be very different from designing one for a couple so it's important to determine who the wardrobe is for, and how much space each person will be getting for their belongings.
Are you using your walk in wardrobes as storage for other items, such as sports goods or extra bedding? Determine how the space in the wardrobe will be used to ensure that you have adequate storage space for it all. If you have high ceilings, consider adding wardrobe doors above your wardrobe shelving and wardrobe hanging space for additional storage for these items.
Think about how many drawers you're going to need in your wardrobe and where they will be placed. You don't want drawers right next to a walk way or tucked in the corner as they then become hard to access. Once you've decided on where your wardrobe drawers will go, you can design the wardrobes hanging space around the robes location.
Work out your wardrobes hanging space. Full hanging is generally required for evening and maxi dresses, three quarter hanging is generally for suits, summer dresses, pants hung at full length, coats and longer jackets and half hanging is suitable for shirts, tops, blouses, skirts and pants hung in half. Working out what clothes you have will assist you in ensuring you have adequate wardrobe hanging spaces at the right height.
Try to position your "occasional" garment hanging space (which is commonly the full length handing space) in the corners of wardrobes. They can sometimes be harder to access so it will be less inconvenient if you only have to access this part of your wardrobes once in a while, rather than every day.
Don't forget about your shoes! Many people like the look of angled shoe shelving, to allow for ease of viewing and access in wardrobes. It also adds an elegant touch to the overall look of your walk in wardrobes. Adding doors to your wardrobes shoe display can assist in keeping the dust off your shoes and therefore increasing their longevity. You can also integrate wire baskets in your wardrobes for your flat soled shoes that you don't want on display.
Wardrobe doors. If you don't like mess or clutter, or if your walk in wardrobes are open to your bedroom, consider adding wardrobe doors. Walk in wardrobes by nature can feel a little messy due to the variety of colours and lack of symmetry but adding doors to the wardrobes can create an aesthetically pleasing look and with such a variety of wardrobe doors available, can be another feature of your walk in wardrobe. Wardrobes with beautiful doors are a feature in any Perth bedroom.
Doors for your robes. If you don't have doors on your walk in wardrobes, think about placing your drawers or mirrored cabinet doors opposite the entry so that it's the first thing you see as it will help to make your wardrobes feel tidy.
If you are lucky enough to have a large walk in wardrobe, island drawers in the middle of the room add extra storage and create a boutique feel. Add a glass top to your island bench to show off your jewellery and add drawers to hold your smaller handbags or clutch purses, belts and accessories. Island benches can also be built with a small seat for a convenient area to put on your shoes.
Integrate a laundry hamper. There's nothing worse than having a beautiful walk in wardrobe to showcase your clothing and accessories and then having a pile of dirty clothes in the corner. Having an in-built laundry hamper to match the colour of your wardrobe will provide an aesthetically pleasing solution to those messy clothes.
Add some accessories, such as pull out belt racks, ties racks, trouser racks and valet rods. To your robes. These can be a great way to utilise odd spaces in your robes , as well as provide functional solutions to storing your accessories.
Don't forget to think about the lighting your walk in wardrobe. Ensuring you have adequate lighting in front of mirrors, in corners and above drawers in the robes can make all the difference between a beautifully functional wardrobe and a dim nightmare.
Engage the services of a professional! In Perth, Flexi's wardrobe designers have years of experience in designing beautiful walk in wardrobes and can assist you in creating the walk in wardrobe of your dreams. To arrange an appointment with one of Flexi's Perth experienced wardrobes and wardrobe doors designers, simply call us on 9301 4200 or visit our Joondalup Perth or Myaree Perth showrooms.
September 7, 2015