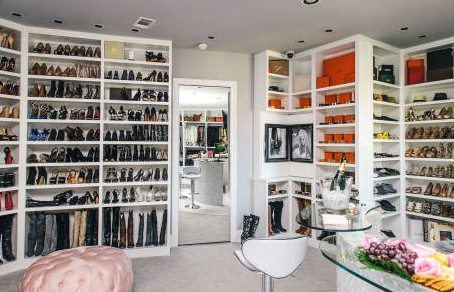 For those of us who have far more clothes than space in our bedroom wardrobes at home, it is time to give some serious thought to long term wardrobe storage solutions to your wardrobe storage space shortage.
Our clothes are doubled up on coat hangers squashed inside the wardrobe, hiding some items we have forgotten we have. The bottoms of our wardrobes are usually stacked up with our shoes and of course some of the clothes that have fallen off the coat hangers and hiding in the dark corners of our over stuffed wardrobes.
Are you able to close your bedroom wardrobe doors? If you can not close your wardrobe doors and drawers then you really do need bedroom wardrobe storage solutions. Contact the wardrobe storage solution experts in WA and they will come to you to provide their free measure and quote service. This service includes measuring the space in your bedroom that will be your new wardrobe storage dream.
The service also includes advice from our experts about our range of wardrobe storage solutions, wardrobe design options, matching wardrobe doors, walk in wardrobe storage solutions with or without matching doors. Flexi wardrobe solutions also have an extensive range of wardrobe door accessories for all your wardrobe storage solutions including door knobs, door handles, wardrobe draw knobs and wardrobe draw handles.
[h2] Wardrobe Solutions
Yes, we can go and buy ourselves one of those free standing clothes hanging racks and find a spot in your bedroom to put it, that will help but it doesn't look great, takes up bedroom space and it really does not hold anywhere near enough hanging clothes, let alone the storage space needed for the smaller items such as shoes, handbags, scarves, hats, underwear and lingerie.
What you need is long term wardrobe storage solutions.
Wardrobe Storage Solutions in Perth
You have several choices when it comes to long term wardrobe storage solutions in Perth.
Flexi Wardrobes and wardrobe doors are by far the best when it comes to wardrobe storage space, matching doors design and the quality finish of all their wardrobe storage second to none in Australia and will complete installation of your wardrobe storage solution on time and as expected. No nasty surprises with the team from Flexi. An excellent wardrobe product installation completed on time at an affordable and competitive price.
The Essentials
Your beautifully functional wardrobe.
A well designed wardrobe creates a functional space, a wardrobe storage space which you can store and display your belongings. An organized space where you can see and select the things you need.
The design of your wardrobe will be influenced by:
The amount of clothes and accessories to be stored within the wardrobe
How you wish to store your items, be it hanging, folded on wardrobe shelves or hidden in wardrobe draws
Designer Walk in Wardrobes
The luxury of a walk in wardrobe gives you open spaces with closed areas.  You can include wardrobe doors, wardrobe drawers and screened areas in amongst a more open plan space.  Walk in wardrobes are seen as the more spacious of robes and therefore a better wardrobe solution.
However, the best wardrobe solution may actually be a combination of walk in areas and more traditional, closed off wardrobes or sections.
Your walk in wardrobe design is a very personal thing.  It needs to suit your individual wardrobe storage needs.  Flexi's professional wardrobe team has more than 60 years combined experience in designing and creating walk in wardrobe solutions.
Custom Wardrobes
Custom wardrobes – it is the details that make the difference
Flexi, customers get the very best service at all times.  Flexi take the time to sit with you in your own home and work with you to plan out your dream wardrobe.
Choosing Flexi to design and build your custom wardrobes is choosing to stand out from the crowd.  Flexi has an enviable selection of designer wardrobe handles to enhance your design and an extensive range of wardrobe colours, available in a matt or gloss finish, ensure that your custom wardrobe is a reflection of your own unique style, built to perfection.
Speak to our wardrobe designers about your unique needs and find out how they can help create your custom wardrobes so that they deliver everything you need.
Contact Flexi today on (08) 9301 4200 and find out why West Australians keep coming back to Flexi.
September 8, 2016