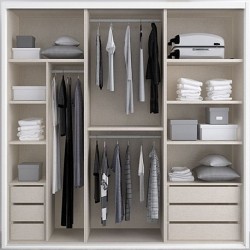 If you are wondering whether you will increase the value of your home by adding custom design walk in wardrobes and wardrobe doors Perth, well it certainly will.
People are becoming very time savvy these days, as they juggle time spent with work, family, hobbies and friends.
If you are struggling to find the right outfit to where in the mornings because your wardrobes are stuffed to the brim with clothes layered on coat hangers and boxes of shoes are sitting at the bottom of the wardrobe, you need to look at the convenience of a gorgeous custom designed walk in wardrobe.
You should be able to find the right outfit, accessories and shoes in your wardrobe within a couple of minutes.
If you have a well designed wardrobe, everything will be visible and easy to reach.
You can even enjoy a custom designed jewellery display unit inside your wardrobe with some extra storage for precious items.
Every person has different storage needs from their wardrobes, whether they need more hanging space, shelves for folded items, some folks have a lot of accessories and wardrobe storage seasonal products, every bit of available wardrobe storage space needs to be optimised to suit your own personal storage requirements.
Custom Designed Wardrobes Perth
Changing your old outdated wardrobes for a custom designed, built walk-in wardrobe and wardrobe door will give you all the storage space you need.
Just about everyone has a dream of a walk-in wardrobes, so if you have the space available, it is a great idea and you can imagine that prospective home buyers will love a gorgeous luxury wardrobe robe with matching doors.
When it comes to finding space for your new wardrobe and doors, you may not need to use the spare guest bedroom because as long as you can pinch some space from somewhere in your bedroom, a custom made walk-in wardrobe with matching a door can be designed to be as big or as small as your storage space allows.
Often it works well to remove the dressing table and chests of drawers to make more room for a built in wardrobe.
This has worked a treat for many people who found that the built in wardrobe provided more than ample storage space, of course this stands to reason when you look at how much space the other furniture tok up without providing enough storage.
The clothing that was in the drawers of the dressing table and chests of drawers is easily placed in drawers and shelving inside the built in wardrobe.
You might be surprised however, at how little space a well-designed walk-in wardrobe can need.
If you are now ready to define your bedroom storage with quality craftsman designed and built designer wardrobes, give us a call and we will show you how we can improve your lifestyle.
Contact Flexi Wardrobes in Perth on 08 9301 4200 or complete our online enquiry form.
June 21, 2017