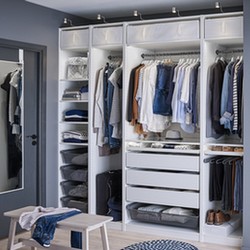 Today, wardrobes in Perth need to be much more than a basic closet to keep our hanging clothes in. We are wearing a lot more clothes and accessories these days, with work, sports, home and special occasions,
Those of us who live in cooler climates need extra wardrobe storage for our heavier clothing and our winter coats, scarves and boots.
It is a shame that some of us have to hang several coats over one little coat hook to keep our jackets and hats tidy.
It would be ideal if each of our jackets could be hung on a separate hangers in our wardrobe rather than squashed underneath another on a coat hook or door knob.
How To Keep It Simple With Wardrobes Perth
For those homeowners in WA, the professional and industry experienced team at Flexi, have been designing and building quality wardrobes for their customers for many years.
When it comes to quality and outstanding service, the design team at Flexi are second to none.
If you need to update your wardrobe storage at home, keep things simple and contact the team at Flexi.
They will come to your home and inspect the space which will become your new wardrobe and then discuss all of your needs and design ideas for the perfect robe to suit your wardrobe storage requirements.
You have the option of starting with a modest system which you can add to at a future date or you can go for the ultimate in a designer system to rival anything you see in home magazines or home renovation shows on TV.
It really is that simple, when you are working with a team who have a vast amount of experience in innovative wardrobe design, you will be delighted with your new quality wardrobes, built to the highest standard and installed on time and on budget, without any nasty surprises.
So now is the ideal time to wander into one of Flexi's showrooms and have a really good look at the quality of their products.
Talk to the people from their professional team who will be able to help you with any questions you might have about their first class wardrobes including:
The soft close sliding or hinged wardrobe doors and drawers as standard on our robes
The beautiful range of products and finishes
Our innovative custom ideas for difficult spaces
Cleverly considered wardrobe layouts
Our vast choice of styles, designs, products and colours
Make things easy on yourself, contact the professional team at Flexi on (08) 9301 4200 and arrange for a free home consultation.
July 8, 2019