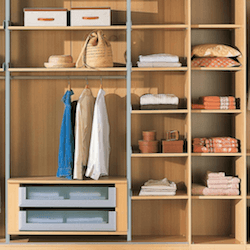 Wardrobes have come a long way in recent years.  Modern wardrobes offer so much variety in design, style and functionality. Gone are the days of the simple hanging rail and hooks.  There are so many different styles to suit different people and lifestyles.
Flexi Wardrobes in Perth like to stay up to date with the latest trends in wardrobe designs perfect for the modern home.  Here are just a few of the latest trends in wardrobes:
Light it up
Most people are amazed at the difference lighting can make to the look of a wardrobe.  Not only does decent lighting look fantastic in a wardrobe, it also eliminates darkness and dullness.  The addition of lighting in a new custom wardrobe makes the wardrobe look modern, smart and charming and will also help people to keep their belongings organised.  Wardrobe lighting goes beyond just a bulb on the ceiling.  LED strip lighting, LED cabinet lights, LED spotlights all to look great in a new wardrobe.  Lights can be included inside drawers, cabinets, hanger area's and inside racks.  Good lighting in a wardrobe can make it a pleasure to use!
Glass doors can make a difference
Glass doors are a popular option for modern Perth homes.  With their clean lines and simple elegance, glass doors create an ultra-chic contemporary look in the bedroom. Flexi Wardrobes in Perth offer both clear glass wardrobe doors and frosted glass wardrobe doors.  Frosted glass is a particularly stunning option for wardrobe doors and is becoming more popular in recent years.  Or people can opt for the transparency of plain glass doors which can give the bedroom a personal feel.
Walk in works
Walk in wardrobes have been around for years, but still, haven't lost their attraction.  Not only do walk-in wardrobes look fantastic, they are also very functional.  If space permits people can choose to include all sorts of extras such as islands for sorting clothes, full-length mirrors or a dressing or makeup area.  They also allow for better ventilation and airflow which helps to keep clothes free of mould and mildew.
Dark wood wardrobe creates a classic look
Dark wood tones have recently made a comeback over recent years. Their classic, dark tones can give the bedroom a sophisticated look.  The colour of the wood can be easily matched to complement the colours of the bedroom.
Never forget storage – add drawers, shelves and hooks.
Ask any homeowner and they will all say the same thing.  Storage, storage and more storage.  When it comes to designing a new wardrobe, it is always important to include as much storage as possible.  Including simple things such as drawers, shelves and hooks can make a big difference when it comes to adding storage to a wardrobe.
Flexi Wardrobes in Perth know all about the latest wardrobe trends.  Most people are amazed when they see how the team at Flexi can transform a space into a beautiful, functional custom wardrobe. Contact the team at Flexi Wardrobes in Perth today to find out more.
August 7, 2018