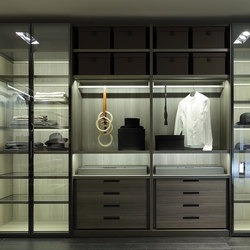 How will custom wardrobes in Perth help you with selecting your outfit?
That is so easy, we all know what a struggle it can be in the morning if we can't find anything to wear.
If your wardrobe is stuffed full of squashed clothing, it is difficult to see exactly what you have in there, and of course when you do eventually find the right thing, it is so crushed that you need to spend more time ironing it.
This is such a unnecessary waste of time when we time poor.
The trick is to be organised, prepare your outfit the evening before, making sure it is clean, ironed and hung somewhere safe to avoid crushing.
Now if this sounds all a bit hard, you do have the easy option of replacing your inadequate wardrobes, with a storage system that will organise all your clothing and accessories in the one place.
Get Organised With Flexi Custom Wardrobes In Perth
Whether you want built in wardrobes or a walk in wardrobe, the team at Flexi can design, manufacture and install the system that will suit your needs perfectly.
Reasons why customers prefer to choose Flexi include:
Flexi deliver the very best use of an innovative wardrobe design
The exceptional quality of Flexi wardrobes
The outstanding customer service every customer receives
A wardrobe system that is fully organised and gives you enough room to hang all of your clothes without becoming them being squashed tightly together, getting creased
Room for your for your fold up clothes, hats, shoes and other accessories
A smart design in a robe will optimise all available space for storage
When organised efficiently and there are no wasted spaces
Choose to have as much hanging space as you need, whether full length for dresses and trousers or half length for shirts, or half half, it all depends on what your clothing dictates
Storage for extra items such as our hats, scarves, belts, shoes and handbags
Display area for fashion jewellery
A mirror in your robe is very convenient
Sensible lighting inside the robes so you can see everything easily
ContactFlexi Wardrobes on 08 9301 4200 or complete their online enquiry form and they will come out, measure your space and design the perfect wardrobe solution for your lifestyle.
January 10, 2019