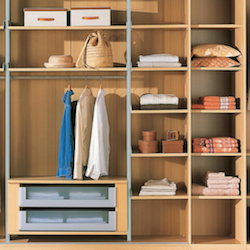 Wardrobes Perth are right on the money today with modern home designs becoming more focussed on factors that provide ample organised storage and the streamlining of the day to day lives of busy people. We are changing in the way we use our homes, we are more practical and we need the benefits of time saving features.
One of these changes is in the bedrooms which usually had the standard  built in wardrobe to the master bedroom with a bed, two bedside tables and a chest of drawers, which only barely served to store all of the clothing for one person, it was fine if you were single, but having to squish up your hanging clothes to make a little room for your partner's clothes was tough.
The minor bedrooms generally had a single standard built in wardrobe with hanging rail and shelf, there was never enough room here for the amount of storage needed. The kids rooms were overcrowded with belongings hanging off door knobs ,bedroom wall hooks or just stuffed under the bed, out of sight..
Homework and study for the kids was at the dining table and often this was a problem with the distraction of noise coming from the TV or other members of the family.
Today the homework many of our kids bring home is dependant on the use of a computer and it stands to reason that a compact study nook built into their wardrobe would create a sensible solution to suit the whole family.
The Storage Solution With Wardrobes Perth
The smart wardrobe storage solution in homes is a custom design robe to suit your needs by having it designed, crafted and installed by our team here at Flexi in WA.
Our modern lifestyles are causing us to put more emphasis on the walk-in wardrobe as well as custom optimised wardrobe storage and lavish ensuites, rather than just making do with a bedroom storage system that no longer suits our needs.
A few simple changes and you can make a significant impact on the way you live your life in your home.
You will be impressed at what we can fit into the same space as your old-style wardrobe, changing your robe from an unorganised mess of clothes into a well-organised modern bedroom storage system solution.
Whether you choose to modernise your current wardrobes or upgrade to walk-in wardrobes, you will notice a significant improvement in your lifestyle for yourself and your family.
To find out how our wardrobes can improve your lifestyle, call us here at Flexi Wardrobes on 08 9301 4200 or complete our online enquiry form.
November 28, 2017