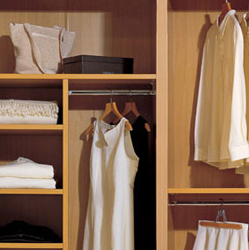 Mornings are well known for being stressful for the working mum. Let's face it, it is hard enough to get the kids ready for school in the mornings and at the same time getting ourselves showered, dressed and made up for work, without adding to the task the time taken to find the right outfit for the day.
One solution is to wait until the kids have done their homework and in bed. While you are sorting out their uniforms for the next day, you need to sort your own outfit. Any rummaging through your robes needs to be done at this time at night as you certainly will not have time in the morning. So now you are prepared for your next day and hopefully you should be able to get to bed before midnight so as to get a couple of hours sleep before the alarm goes off in the morning to start all over again.
Sort Out Your Wardrobe Space
Now imagine if your robes were custom designed to have all your hanging clothes in one place, shelves with your folded clothes, hooks for bags, carves and what not. How easy would it be to find your clothes and match up your shoes as well. It is easier than you think with flexi wardrobes. Flexi are the experts in optimising wardrobe space, whether basic rail and shelf wardrobes or custom designer walk in robes that have everything you could wish for in storage ideas.
The design team from Flexi come to your home and measure the space that is to become your new robes and then discuss your needs and any ideas you have to add your own personal touches.
Wardrobe Quality
When installing new robes, shelving or doors for your existing ones astute customers are looking for:
1. Quality workmanship
2. Strong robe shelving
3. Friendly, experienced and courteous staff
4. On time delivery and installation
5. The ability to set and work within their own budget
6. Experienced Flexi storage designers who listen and create ideal solutions
7. An extensive selection of custom design & built robes, cabinetry, fixtures, custom sliding or hinged wardrobe doors, and fittings
8. Colour and style choices in robes that will compliment your home
9. Qualified tradespeople who demonstrate care and consideration
10. The very best robes WA has to offer
Contact us today on 9301 4200 and find out how we can transform your wardrobes and storage needs into a beautifully functional space.
February 16, 2017