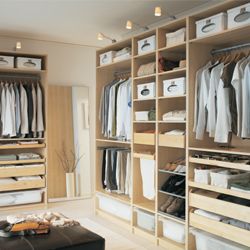 The team at Flexi Wardrobes in Perth WA, understand that well designed wardrobes can make all the difference to the morning routine in the family home.
Being able to find and access our clothing on a busy week day morning, will help reduce the angst and fuss that is often part of the regular morning routine.
Trying to find the right top to go with a skirt, the other shoe, or even looking for something that does not have to be re ironed, this all takes time and can cause frustration.
Well designed walk in robes can streamline a busy morning, saving you time and money, (yes the wasted money on using power to iron and new clothing, because for some reason we never have anything to wear)!
Why Choose Flexi Walk In Robes?
There are many reasons that people prefer Flexi to design and create custom walk in robes for their homes.
Flexi Wardrobes Perth, WA are the experts in wardrobe storage solutions
They have many years experience in design, manufacturing and the installation of fine quality wardrobes in various designs and styles
Every design is unique
Flexi have a professional custom design service
At home free consultation and quote
Exceptional customer service
Whether you choose walk in robes or stand alone wardrobes, each robe is unique.
The team from Flexi take into consideration everything that will have an effect on your wardrobe design including:
The amount of floor space and the height of the room
The way the walk in robe will sit within the overall layout of the home
The location of the entrance to your wardrobe
The availability or lack of natural light
Your wishes and dream wardrobe plan
The budget you have set for your robes
Your preference for open plan or areas that include doors or drawers
The type of garments and accessories storage you plan in your wardrobe
All Flexi walk in robes are:
Custom designed to fit your unique needs
Made to measure
Immaculately finished
Installed by qualified tradespeople experienced in wardrobe installations
Beautifully functional
Delivered on time and on budget
Flexi designers understand what you are looking for
Contact the team today on (08) 9301 4200.
Your beautiful new Flexi walk in robes will serve you well for years to come.
December 19, 2018