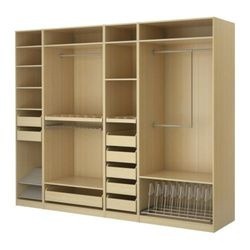 The team at Flexi Wardrobes in Perth are really amazing when it comes to creating wardrobe storage solutions in the tiniest of homes.
If you are living in a small apartment, studio or granny flat, there is no need to have most of your belongings stored in boxes when Flexi furniture designers can create innovative storage options that will not only be practical but will look beautiful as well.
A studio apartment is a very small space for anyone to live on a permanent basis, however with the help of creative ideas and the smart use of all available floor and wall space, you will be impressed at how organised and comfortable it can be.
Flexi Wardrobe Solutions
A great place to start is with a full wall of contemporary built-ins for additional storage. Built-ins maximize storage while looking like they're not even there. Floor to ceiling wardrobes are an ideal solution for plenty of extra storage for many other things apart from clothing and accessories.
Clever wardrobe design can provide extra shelving and storage for your linen, unopened panty items, electrical appliances and other bulky kitchen appliances while not being used.
You can easily use one half of your wardrobe space for clothing, another section as linen cupboard and another section for pantry.
The built in wardrobe can be designed to compliment the cabinetry of the kitchenette, creating an overall complete practical, fresh and modern look to what was once a teeny weeny boring space.
Thinking Up!
Having a raised bed in a corner against the wall is another way to maximise space and create a cosy ambience in the sleeping area, while utilising plenty of extra storage under the bed ( the higher the bed, the more storage you get!)
If you are happy to have a few steps up to your loft bed, you can then have a great desk area underneath your bed….this is another practical option if need a working or study area large enough to accomodate computer, files and stationery storage.
Positioning a mirror to reflect the light of a window is a good way to up the natural light in your space.
The easiest way to incorporate a big mirror to your space is to ind a body-length mirror and lean it up against the wall, and then you do not have to drill holes into the wall.
For more innovative ideas on how to optimise the space in a tiny space, contact the team at Flexi and find out how easy it is to turn your ideas into reality.
September 27, 2018