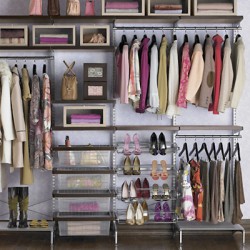 Many people wonder why wardrobes are becoming so small lately, and what storage solutions are easily available.
It may just be that most of us, now have excess clothing which we are not prepared to do without.
With all the wonderful bargains available online, many of us are buying up big on discounted clothing and accessories, whether we need then or not.
Of course we do not want to miss out on a bargain, however the issue then becomes a matter of how to store our new outfits, without giving away what we already have.
All of the best wardrobe storage ideas begin with taking a good, long, hard look at what you actually have in your wardrobe and deciding whether or not you can free up any more space.
Easy Wardrobe Storage Solutions
When looking for extra room in our wardrobes, it is a good idea to check to see if there are any clothes that do not fit, worn out or out dated.
Firstly you need to just toss everything from your robe onto the bed and start sorting it into piles, yes you know the piles, the pile of clothes you keep and the pile you give away and the pile that you throw away.
Giving To Charity: look at all of the clothes, shoes and accessories, if you have not worn something in more than a year, does it really need to be taking up valuable space in your wardrobe?
Throwing Away Items: if clothes are beyond repair or you can't be bothered to repair them, then throw them out. We all tend to hoard old clothes in our wardrobes, items that we will never wear again, but are not good enough to give away to charity.
Keep: the rest of the clothing on the bed should represent what you will wear, because they fit you and are in good condition.
This is when you will realise that not only do you have a lot of items needing to go back into your wardrobe, but they need to be stored in an easy to see and to reach wardrobe system.
You will be amazed at what a difference a smart Flexi wardrobe storage solution will make to your daily routine, and also the money that you will save by wearing the beautiful clothing you could not see before, some may have even had price tags still attached!

It is now time to have a chat with the experts at Flexi Wardrobes. Contact them on 08 9301 4200, their professional team will design and build a custom wardrobe solution, crafted specifically for your needs and your budget.
April 24, 2019