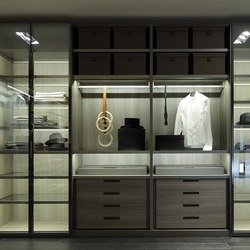 When you are looking for high quality, custom wardrobes in Perth, you will find none better than those crafted and created at Flexi Wardrobes Perth.
Here at Flexi Wardrobes in Perth we take pride in our outstanding wardrobe designs and our team manufacture each and every wardrobe for every individual client.
We manufacture and install our handcrafted robes in Perth homes, and our customer service is second to none. Because our customer service is integral to our business we will always take the time to talk to you and discuss your particular wardrobe needs.
When we come to your home to chat about your new robes and accurately measure the available space, we are able to discuss the various style options available to suit your particular lifestyle needs.
.
We can show you a 3D computer model of your new robes on the spot which helps to fine tune the design of your new wardrobes.
When you see the plan of your new robes, you are able to make adjustments immediately when realise that you need more shelves or extra hanging space.
Everyone has different needs, and we understand that all wardrobe needs are unique. That is why each solution is built to your specific requirements and we custom design your robes with any features you need including:
Tie racks
Scarf display
Handbag storage
Shoe racks
Underwear drawers
Jewellery cabinets
Locked compartment for valuable personal items
Mirrors for dressing
Lighting
Power outlet
Extra room for seasonal storage i.e. winter coats or summer dresses
Tall areas within your wardrobes for the hanging of long ball gowns or suits
3/4 hanging for pants, long skirts or shorter dresses
Half hanging for shirts and blouses
Dedicated space for sporting gear
Separate his and hers robes if needed
Storage solutions for children's bedrooms, guest rooms and linen cupboards
Matching doors to compliment the decor of the room, adding doors to your walk in wardrobe will add privacy and protection.
Our experienced team of designers will advise you on the pros and cons of each door for your particular style. We will help you find the best combination of open and private spacing within your wardrobe design.
Your designer will also help you decide whether sliding, hinged or top hung trackless doors will best compliment your space.
If you can imagine it, we can design and build it, so call us now at Flexi Wardrobes, our quotes are the best in WA, so if your robes need revamping, call us on 08 9301 4200 or complete our online enquiry form.
December 7, 2017