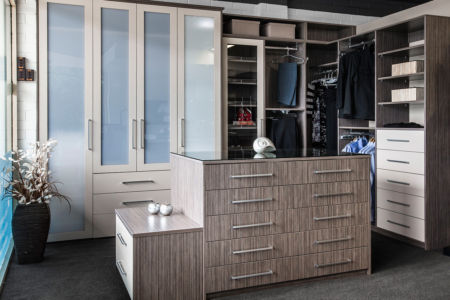 Custom wardrobes are the simple solution to reducing clutter in your bedrooms without having to give away all your clothing.
It is just a matter of clever storage ideas that are designed to suit the individual needs of each person, whether they work in an office during the day and spent most evenings at the gym, or they are home during the day and spending most weekends in the garden, everyone will benefit from smart wardrobe storage.
Often our bedrooms are cluttered with bulky bedside furniture, dressing tables, chests of drawers and blanket boxes to name a few of the most common items taking up a lot of valuable space.
Some of these pieces of furniture become depositories for bits and pieces of sentimental paraphernalia rather than for the storage of clothing.
Streamline Your Bedroom Storage With Custom Wardrobes
If you want to get an idea of what you can actually achieve in your bedroom with a custom designed wardrobe, contact us at Flexi Wardrobes in Perth, we are only a phone call away, chat to us and we will arrange to visit you at home where we can discuss your various wardrobe storage solutions options in the comfort of your home.
Our customers find this service very practical as we can measure the available area on the spot and then show our customers the various options available to them.
It is essential to understand the type of wardrobe storage that you need, for example how much full length hanging space, shorter length hanging space, shelving for folded items, drawers for underwear, shoe racks and coat hooks.
When done properly, the custom wardrobe provides a well organised space with plenty of room to store all your clothing in one area, leaving your bedroom clutter free and much more room for maybe an even larger bed.
Just as everyone has different needs, Flexi understands that all wardrobes are unique. That is why each solution is built to your specific requirements.
Our experienced wardrobe designers create custom wardrobes that fulfil your wish list by:
Allowing extra space room for seasonal storage.
Including tall areas within your wardrobes for the hanging of various length clothing.
Dedicating space for the storage of sporting gear.
Separate his and hers wardrobes if needed.
Displaying and protecting your shoes, bags, ties, belts, scarves and sunglasses with unique built in storage solutions.
Optimising storage space with flexible adjustable shelving.
Incorporating dedicated drawers and locked areas to secure your jewellery and valuables within your wardrobes.
A beautifully functional wardrobe design will enhance your bedroom and support your lifestyle.
Here at Flexi, we work with you to design your custom wardrobes and our design team take into consideration all aspects of your lifestyle and personal wardrobe needs.
We strive to give you a solution that not only works for you, but that you love.
Make an appointment with one of our team today on (08) 9301 4200 to find out how we can design your custom wardrobes so that they:
September 7, 2017