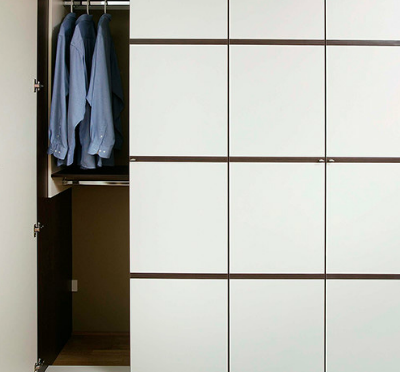 Custom wardrobes can make a huge difference to your life, because custom wardrobes are tailored to suit your specific needs. After all, not all of us have the same amount of clothes, shoes and accessories and we all need a different arrangement of wardrobe storage space, drawers and shelves to store all of our personal belongings at home..
The Problem With Regular Wardrobes
One of the big problems with the regular type of wardrobes fitted into most homes, is that you only have one horizontal bar to hang your clothes and then a vast emptiness underneath aye the bottom of the wardrobes. This is where we usually store all of our shoes and handbags, but they all end up in a jumble on the floor and we don't use this wardrobe space effectively at all.
The other problem when you don't have the benefit of custom wardrobes is that many of us resort to dragging a chest of drawers into the wardrobe to try and make better use of the space underneath our hanging clothes. So we have our hanging clothes packed tightly together (because we don't have enough wardrobe hanging space) and a chest of drawers jammed in underneath.
None of this is really effective and doesn't solve the wardrobe storage problems suffered by most of us in our homes. On the other hand, installing custom built wardrobes will give you the exact type of wardrobe storage you need. So instead of making do with your old, out-dated wardrobes, why not consider installing quality custom built wardrobes in your home?
The Benefits Of Custom Wardrobes
With quality wardrobes and matching doors customised to your specific needs you can stay with a simple design  or go really big and luxurious. On the one hand you can install a basic wardrobe and doors that optimises your available wardrobe space and gives you the wardrobe hanging space you need, a few wardrobe drawers and wardrobe shelves, as well as a shoe rack.
Just changing from you old generic, built-in wardrobes and doors that came with the house to a more customised wardrobe system will make a huge difference to your mornings at home. Then of course, you can spend more money and have high-end finishes on your wardrobes and doors and any combination of wardrobe storage for your clothes, shoes, hats and accessories that you need.
It really comes down to the space you have available, because if you have the space for a walk-in wardrobes, then this is the ultimate in luxury. Not many of us have this additional space however, but that doesn't matter, because with custom wardrobes and doors , you can still have a super organised wardrobe space for your clothes.Robe doors are available in hinged doors and sliding.
So if you are ready for some fabulous custom wardrobes in your home, call Flexi Wardrobes in Perth on 08 9301 4200 or complete our online enquiry form for more information.
January 27, 2016