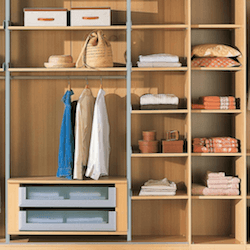 If you want to update your bedroom, one of the first things you need to think about is custom fitted wardrobes.
Custom fitted wardrobes will not only transform the appearance of your bedroom, but they will provide much more storage space for your clothing and accessories. You will be amazed at how much more storage can be found in an optimised fitted wardrobe.
The old style wardrobes with the hanging rail and top shelf are no longer the ideal wardrobe storage solution, today we need hanging space of different lengths, shelving, drawers and shoe racks, just to name a few of the components needed in a modern robe system.
Most folks today have jobs, activities, hobbies and functions that require various outfits, to wear on those occasions.
Busy people need to organised, and to be properly organised at the very start of the day is a smart way to begin.
A smart wardrobe plan which allows you to store your clothes neatly and see them easily when you are in a hurry, is a time saver in any home.
Valuable time is wasted in the mornings when your clothing is hard to find inside cramped wardrobes, and even more time is wasted when you finally find the outfit you need and then discover that it needs ironing.
New fitted wardrobes will not only save you time each day, they will enhance your bedroom when fitted with doors to match your bedroom decor and existing furniture.
Clever wardrobe design can also "de-clutter" your bedroom, as chests of drawers and dressing tables will not be needed.
Flexi Custom Fitted Wardrobes
The team of specialists at Flexi have over 60 years combined experience in designing custom wardrobes for customers with many various needs.
Not only will the designers listen to your needs and make suggestions for solutions unique to you, they will also help you to create wardrobes that suit your lifestyle and storage needs.
Wardrobe design is a very personal thing and therefore your wardrobe design needs to suit your individual storage needs.
At Flexi Custom Fitted Wardrobes in Perth, industry experienced designers have been designing, building and installing beautiful custom fitted wardrobes since the turn of the century.
Flexi designers will visit you at your residence and, using their full colour 3D computer design software, will show you straight away how they can completely transform your space, providing you with a unique design and quote on the spot.
Contact Flexi today on (08) 9301 4200 and find out why 50% of their business is from returning customers.
April 27, 2018