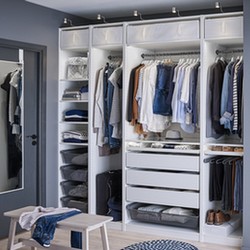 If there was ever a reason to get new custom wardrobes in WA, it's now. After having to wrestle a mouldy sandwich, from the jaws of my much overweight diabetic cat, and clean up what resembled the remains of a fluffy green sausage that was spread over the floor in my son's bedroom, I decided it was time to investigate.
What else could there be lurking in the dark crevices of the "no go zone", whatever is in the wardrobe, my diabetic "she lion" and my deaf doggie, are very keen to find out.
So bravely I ventured forward and with garbage bag in hand and barbie-mate in the other, the smell coming from the bedroom was not pleasant, a kind of rotten socks and furry fruit fusion.
Now to be fair, there were a couple of xmas tree, car air fresheners pasted to the inside of the wardrobe door.
After dragging everything out of the over stuffed wardrobe, I realised that I needed to get help from those who specialise in wardrobe design for teens.
Flexi Custom Wardrobe Design
The team at Flexi Wardrobes have been designing, manufacturing and installing premium quality, custom wardrobes for customers throughout western Australia.
Every one has different needs, Flexi understands that your needs are unique. That is why each solution is built to your specific requirements.
The Flexi wardrobe designers are experienced in creating custom robes that fulfil your wish list by:
Allowing room for seasonal storage i.e. winter coats or summer dresses, including tall areas within your wardrobes for the hanging of long ball gowns or suits, 3/4 hanging for pants, long skirts or shorter dresses, half hanging for shirts and blouses
Dedicating space for the storage of sporting gear
Separating his and hers wardrobes if needed
Creating solutions for kid's rooms and linen presses
Displaying and protecting your shoes, bags, ties, belts, scarves and sunglasses with unique built in solutions
Making the best use of space to maximise storage with the flexibility of adjustable shelving and built in storage solutions
Incorporating drawers and locked areas to secure your jewellery and valuables within your wardrobes
All of these things are crucial to designing a beautifully functional design that enhances the room and supports your lifestyle.
Make an appointment with one of the team today on (08) 9301 4200
October 13, 2018