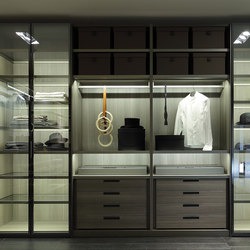 Like most people, we think about custom wardrobes to solve our storage problems such as our wardrobe being a repository of many items, not just our clothes.
When you have just the basic wardrobe at home with a single horizontal bar and a wardrobe shelf above, undoubtedly all of our clothes are crammed onto the wardrobe hangers and stuffed up above on the wardrobe shelf.
Some of us have a problem just to close the wardrobe doors.
Then of course there is the way we store our shoes, we opt for the jumble of shoes on the wardrobe floor underneath our hanging clothes.
If we do not have a good wardrobe storage solution for our clothes, shoes and accessories, we are at risk of not being able to find particular clothes, a missing shoe or belt, meaning we head for the shops to buy something new.
If you cannot fit all your hanging clothes on wardrobe hangers, as well as shoes and accessory storage, then you need to bite the bullet and invest in one of our fabulous wardrobe storage solutions.
We tend to keep too many clothes that we no longer like or can fit into and these take up valuable space in our wardrobes.
So go through all of your clothes and only keep the clothes that you know you will wear.
If they don't fit, need mending or are really old and outdated, either dispose of them or give them to charity.
Once you have sorted everything out of your wardrobe and put what is left back into your wardrobe, if your wardrobe is still overstuffed and the doors are not closing , then it is time to investigate new wardrobe solutions at Flexi Wardrobes and Doors.
Storage Solutions And Organising Your Wardrobe
Here at Flexi Wardrobes in Perth we custom build your wardrobe to suit your personal needs.
We create gorgeous custom wardrobes and wardrobe doors to suit all budgets.
We have an extensive range of wardrobes, that are not only clever and practical, they are also a design statement.
When you choose our custom wardrobes, it will be the details that make the difference.
At Flexi we believe in looking after our customers and making sure they get the very best service at all times.
We will take the time to sit with you in the comfort of your own home and work with you to plan out the wardrobe of your dreams.
Choosing Flexi to design and build your custom wardrobes is choosing to stand out from the crowd.
Our selection of designer handles enhance your design and our extensive range of colours, available in a matt or gloss finish, ensure that your wardrobe is a reflection of your own unique style, built to perfection.
Speak to our wardrobe designers about your unique needs and find out how we can help create your custom wardrobes so that they deliver everything you need.
Visit our showrooms and fall in love with our modern custom wardrobe solutions?
So call us in Perth and let us help you with your wardrobe solutions on 08 9301 4200 or complete our online enquiry form.
May 4, 2017