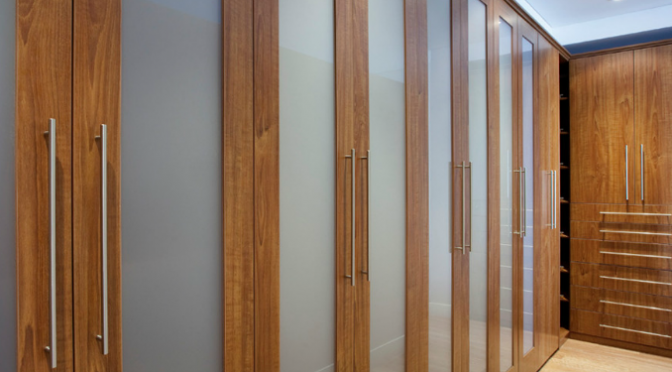 A new wardrobe is a very personal choice and can make a huge difference to the layout of a bedroom.  Not only does a good wardrobe provide lots of storage, they can also help keep a bedroom organised and looking great.  An important consideration when creating a new wardrobe are the doors.  Wardrobe doors are available in a wide variety of colours, styles and finishes.  Most people are amazed when they see what a difference wardrobe doors can make the overall appearance of a wardrobe and bedroom.  Wardrobe doors should not only enhance the overall look of the bedroom, it should also compliment the decor of the rest of the room.
Why doors?
Some people opt to not have doors on a new wardrobe.  However, despite looking great, there are a number of reasons why wardrobe doors are a good idea.
They hide the clutter of a wardrobe
They generally give the wardrobe a better appearance
They reduce dust inside the wardrobe
They protect wardrobe items from damaging UV rays
Door options
There are a number of options when it comes to selecting doors for a wardrobe. Sliding doors are a popular choice as they do not take up much space and allow easy access to the wardrobe.  There are also other options such as bifold or hinged doors. Mirrors on wardrobe doors are a great way to lighten a dark room and create more space.
Flexi Wardrobes range
Flexi Wardrobes in Perth offer a wide selection of wardrobe door including:
Clear glass doors
Frosted glass doors
Mirrored wardrobe doors
Woodgrain doors
Panel doors
Aluminium doors
Carved wardrobe doors
Gloss or matt finish
Coloured
White
Combination  (such as grain, gloss or glass combinations)
The friendly team at Flexi Wardrobes are experienced in designing and building wardrobes that look fantastic.  They are experts at designing and building functional, attractive wardrobes that provide storage and can improve the overall look of a bedroom. They can provide advice on the pros and cons of different wardrobe door options. Most people are amazed when they see how the right wardrobe door can really enhance the look of a wardrobe and bedroom! Contact Flexi Custom Wardrobes in Perth to find out more about their stunning selection of wardrobes on ph 08 9301 4200.
May 18, 2018