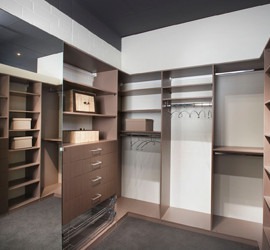 With most Aussie households suffering from storage problems and struggling to find enough space to keep their homes organised, the humble walk in wardrobe has been greatly undervalued.
This can be one of the smallest spaces in your home, but its value as a place to store so many different items, not just your clothes, shoes and other accessories, can mean the difference between a happy home and a sad, cluttered place.
You might think that this is an exaggeration, but just take a critical eye to your existing robes and see how many items that you have shoved in there, that really don't belong in there.
Declutter Your Home With A New Walk In Wardrobe
Isn't it time to take the bull by the horns and reorganise your robes? Isn't there somewhere else that you can store that old ten pin bowling ball? What about those suitcases that take up a huge amount of room? Do you have boxes of photo albums, old books, records and office files stacked in your closet?
This is where a walk in wardrobe can be such a blessing, because you can easily store all of these items in their own nooks and still have loads of space for your clothes.
You might be surprised at what people actually tuck away in their closets, simply because they have no other storage options. Which doesn't leave much space for your clothes does it? So you end up with all of your hanging clothes squashed on the rail, your shoes in a jumble on the floor and a load of other stuff that takes up your valuable closet space.
The abuse of our robes means that we need at least one, if not more, chests of drawers in our bedrooms, so we can store all of our fold up clothes and many that should be on hangers as well, because we have run out of space in our robes.
A walkin wardrobe gives you so many different options. You can even keep your exercise bike in there, as well as your yoga mat and other exercise essentials. At Flexi Wardrobes, we can design a walkin robe that suits your exact needs.
This means that if you need a storage area for all of your photo albums, ski clothes (and equipment), golf bags and holiday suitcases, we can create a walk in robe for all of this and more.
With a well organised walk in wardrobe you can throw out that old chest of drawers or even move it into the walk in robe if you want to keep it and give yourself much more space in your bedroom.
So if you want to take back your bedroom, organise your clothes storage and have a wonderful walk in wardrobe, call Flexi Wardrobes on 08 9301 4200 or complete our online enquiry form.
May 24, 2016