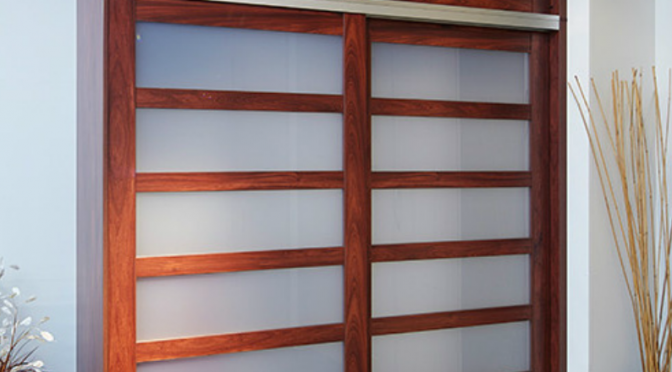 Wardrobe Doors
When wanting to add some new life to a bedroom, most people tend to opt for a lick of paint to brighten things up. Another way to modernise a bedroom is to install some new wardrobe doors to built in robes. Robe doors come in a variety of sizes and styles and can be made to match almost any décor and lifestyle. Here is an extensive list of the wardrobe doors that Flexi Wardrobes can custom make to spruce up your wardrobe.
Slab Wardrobe Door
Available in a range of colours, slab wardrobe door is perfect for those wanting a neutral, basic look. A popular choice for children's rooms, plain slabbed door is available in a range of colours and can be custom made to suit both hinged and sliding frames. They are made to a maximum height of 2.4m high, which is standard ceiling height. If you have high ceilings, Flexi can create a two-tier door, which is essentially a second robe door above the standard wardrobe door. This can be a great place to store items such as extra bedding or luggage.
Shoji Wardrobe Door
The Shoji door is one of the most popular doors. Inspired by Japanese architecture, Shoji literally translates to "Interceptor". The Shoji door is available with 4, 6 or 8 panel inserts. With a variety of materials available for the inserts, including mirror, white glass, black glass, satin deco glass, opal acrylic and white acrylic, along with Flexi's range of board colours, the possibilities are endless in terms of look. Shoji wardrobes doors can be made to a maximum height of 2.4m and are available in both hinged and sliding doors. You can also create a two-tier door using the Shoji wardrobe door.
Recessed Wardrobe Door
Perfect for people wanting a contemporary look, but still budget conscious, the recessed doors consists of a laminate board frame around a stylish glass or acrylic insert. Recessed doors are frequently used with a mirrored insert to incorporate a full length mirror in the room, but are also available with white glass, black glass, satin deco glass, opal acrylic and white acrylic inserts. The recessed wardrobe door can be made to a maximum of 2.4m high or you can have a two-tiered door system and are available to suit hinged or sliding frames.
Stella Sliding Wardrobe Door
The Stella sliding door has an aluminium frame, rather than timber and as such can go up to a height of 2.7m so are perfect for those with high ceilings. The Stella sliding door can be made with 3 panelled inserts, in up to 3 different colours, or alternatively, you can have mirrored doors. Stella doors are only available to suit sliding doors.
Embossed Wardrobe Door
Perfect for people wanting an authentic wood grain look, without the price tag and maintenance of a timber veneer product, the Embossed door has a textured grain and is available in 6 different colours. Embossed doors can be made 2.8m high, and can suit a hinged or sliding frame.
Vinyl Wrap Wardrobe Door
Vinyl wrapped doors are perfect for both hinged or sliding and are perfect for those wanting to compliment a more traditional style of décor . They are available with a wide range of different carvings to give a range of different effects. Vinyl wrapped doors can also be made to imitate the Shoji style door, but with rounded corners. These doors can be made to suit 2.7m high ceiling and are available in hinged or sliding doors.
Both Flexi's Myaree and Joondalup showroom have extensive displays of the stylish wardrobe hinged and sliding doors available and are open Monday to Saturday from 9:00am to 5:00pm so if you are still unsure, why not pop in and discuss your requirements with one of our experience designers?
August 19, 2015