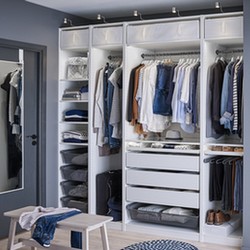 Many of us are finding that we have to use the wardrobe in the spare bedroom because our own are very overcrowded.
Wardrobes these days do not cater for the storage needs of people who need to wear various outfits and accessories each day.
For those with day jobs, night work, gym, sports, dancing, running, walking the dog or gardening, we all wear particular clothing to suit the occasion.
This is a lot of outfits and accessories to match. Even our daggy Sunday clothes have the daggy accessories to match, you know the worn out leggings, stained tee shirt and thongs. All these items need a home.
Wardrobe Storage Solutions In Perth
There are many practical reasons for investing in good quality wardrobes to store our clothing and accessories including:
Our clothing and accessories should be stored so that the items that need to be hung are nicely hanging without being crushed next to other clothing
Fabric can be damaged when snagged on a zipper or sequins from another garment squashing against it
Crushed clothes need to be ironed before being worn
Shoes need to be stored in pairs and separate from anything that may scratch them
Handbags, scarves and hats are best stored on wall hooks where they can be seen and reached easily
Walk In Wardrobes
The walk in robe really is the most user friendly option when it comes to clothing storage.
With ample hanging space, various shelving configurations, optional drawers and shoe racks, everything we have can be stored in an organised space which allows us to see and reach our clothing items easily.
A clever design can save you a lot of time in the mornings. We can waste a lot of time rummaging through a cluttered closet trying to find a missing shoe or the matching belt to a dress we want to wear.
If you have a lot of clothes to store and you need to save time in the mornings, you may need to invest in a smart custom wardrobe storage solution.
Just pick up the phone and contact the team at Flexi.
The team from Flexi are the professionals and believe in looking after you and making sure you get the very best service at all times.
They will take the time to sit with you in the comfort of your own home and work with you to plan out the robe of your dreams.
You will be amazed at the clever storage solutions they have and how smooth the design, build and installation process is.
Give them a call on (08) 9301 4200
April 4, 2019