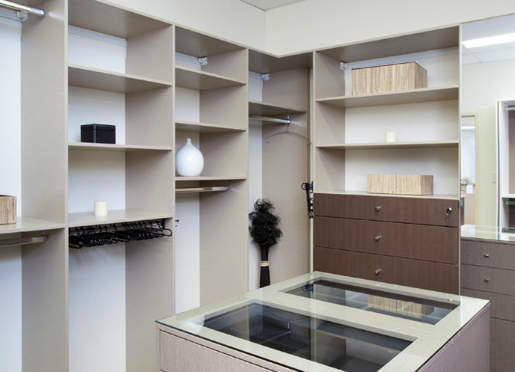 Wardrobe Solutions
Do you have enough storage room in your wardrobes? Today's modern wardrobe solutions are great, because they take into consideration that we need more modern wardrobe storage solutions than just a small hanging closet to store our clothes and accessories.
Are you fed up of your old wardrobes at home? Trying to find your favourite shirt or that designer belt amongst a whole host of other belongings in your wardrobes. This can be a serious chore, especially when your wardrobe storage space is too small. That's the main problem with wardrobes today – they are too small, which leads to disorganisation and clutter.
Sometimes you even dread buying new clothes, because you have nowhere to store them! If this sounds like you, then you need our custom designed wardrobe solutions that will give you all the wardrobe storage solutions you need to store your clothes and belongings.
The Flexi Wardrobes maximise space
We can design home wardrobe storage solutions that perfectly suits your lifestyle and your space. Do you need lots of shelves or drawers for t-shirts, sweaters or hats, maybe lots of belt and tie storage, spaces for all of your shoes or extra room for hanging your trousers or dresses? We can design a wardrobe storage solution that perfectly suits your wardrobe requirements, one that is specific to your needs. We will custom build your wardrobe that is organised and workable.
You won't need to rummage around in your old wardrobes at home trying to find that one item you wore last year that goes really well with your jeans and you won't need to jam all of your clothes into a small wardrobe space any longer.
It is all about wardrobe organisation and smart wardrobe design – that is why our custom designed wardrobe solutions will transform the way you live your life. How good will it be to stop re-ironing squashed clothes and find exactly what you need in your wardrobes, because everything is at your fingertips?
The Flexi Wardrobe solutions are customised to your needs
Do you still have those old built-in wardrobes with one long rail hanging below a long shelf? How many times have you had to stand on something to dig around at the back of the wardrobe shelf for last year's boots or to find the handbag that matches your summer sandals?
Well, you don't have to put up with these old, unworkable wardrobes any longer. Get your wardrobes solutions sorted. With our customised wardrobe solutions you can add as many drawers, shelves and hanging rails as you need. Obviously, we have to consider the amount of wardrobe space available, but with custom designed wardrobe solutions you can get as close to perfect as possible – even in limited wardrobe spaces.
So if you are fed up of rummaging through your old wardrobe at home and desperately yearn for a workable wardrobe solution, contact Flexi Wardrobes in Perth on 08 9301 4200 or complete our online enquiry form.
November 12, 2015