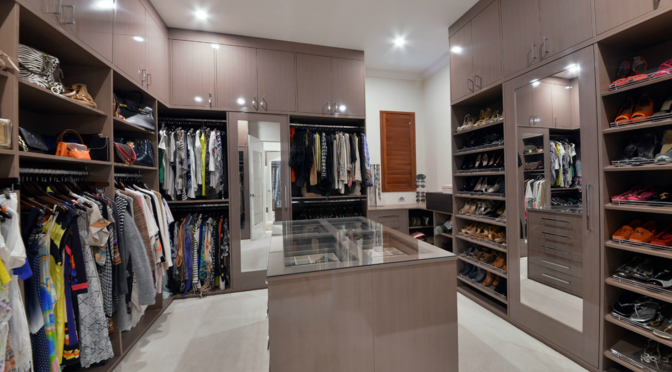 Overcrowded Wardrobes
It is time to start looking for wardrobe solutions when you can no longer close the robe door. I am sure it has happened to you at home, when you find that you have to move something out of the way so the door will close properly.
There is nothing worse than overstuffed robes! How many of your hangers have more than one item on them? You have 3 dresses on one hanger, 4 shirts on another hanger or a shirt on top of a dress and a jacket on top of these as well.
In our busy lives, we don't have the time to rummage through hangers looking for a shirt we know we have, but can't see straight away. This is when you need to start thinking about some serious wardrobe solutions in your life.
So let's take a look at two ways to reorganise your robes, so that they work better for your lifestyle.
Helpful Tips For Wardrobe Solutions
Tip 1 – Remove Anything That Shouldn't Be In Your Robes
If you are like most other people, over time your robe becomes a repository for too many items that should live elsewhere. For example, people store their gym bags, bowling balls, tennis racquets, Christmas decorations + tree + wrapping paper, old photo albums, pictures, vinyl LPs and so much more in their robes.
Why do we do this? Well, the main reason is that we don't have anywhere else to store these items, which highlights the easy fix to your problem – find somewhere else to store all of these items.
Once you have pulled out all of the items that shouldn't be in your robe, take a look at the garage or other areas in your home and set about installing suitable storing spots for these items. Of course, if it is impossible to store these items anywhere else, then you really need to think about wardrobe solutions that can be customised to suit all of these belongings as well as your clothes.
Once you are left with just your clothes, shoes and accessories in your robe, you may well find that you have ample space for everything. It was just all of the other stuff that caused the overflow in your robes.
Tip 2 – Install A Flexi Robe For The Ultimate Fix
If you can't store all of these extraneous items anywhere else in your home or even when you do, you still don't have enough space in your current robe, then you need Flexi.
At Flexi Wardrobes we can customise your wardrobes, so that they suit your lifestyle, giving you peace of mind and a clutter free robe space.
To find out how our wardrobes can improve your lifestyle, call Flexi Wardrobes on 08 9301 4200 or complete our online enquiry form.
April 14, 2016