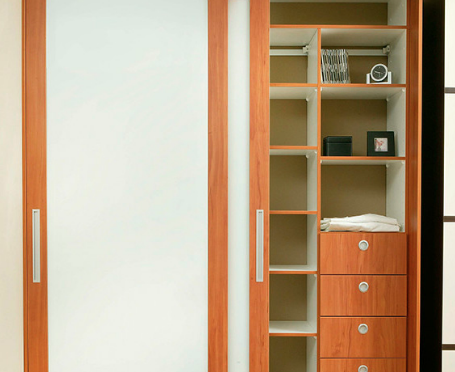 Wardrobes Perth have simple storage solutions that can solve the most challenging of wardrobe clutter, oh yes, the dreaded teenage wardrobe!
Can you believe just how much stuff our older kids can stuff into their robes? It really defies belief, until one day you put on your rubber gloves, armed with several tough rubbish bags, disinfectant and then enter ground zero.
The smell alone is enough to give away the fact that leftover food has been forgotten and now the creepy, crawly, critters are having a picnic in the bottom of the robe amongst the shoes, and just where are those new clothes going to go while the robe is already full.
The fact is that the old style robe with single shelf and hanging rail is just not working for the teens of today.
A smart wardrobe system would provide ample room for hanging clothes, folded clothes, shoes, hats accessories and even the school bag that can be accessed easily to check for anything suspect that needs to be disposed of properly.
If the robe in your teenager's bedroom is outdated and not working your teenager's needs, then look at Flexi Wardrobes Perth for some very simple and practical solutions.
Let's Get Practical With Designer Wardrobes Perth
Here at Flexi Wardrobes & Doors in Perth we have several clever wardrobe storage solutions and robe doors, depending on your storage needs and design choice, however our custom robe and study station is proving to be a big hit with the older kids in the household.
We can custom design, build and install an awesome compact study area within a wardrobe, what a great idea! This study nook can include power outlet for computers, phones etc inside the walk-in robe, your teens will love it.
All of our wardrobe projects, include a free home visit service so that our master craftsmen can custom design the perfect storage solution for your needs with ample room for clothing, accessories, shoes, hats and bags.
When it comes to an awesome walk in robe, when well designed, it is a beautifully functional space, a place in which your teenagers can store and display their belongings and take pride in.
The design of a custom walk in robe will be influenced by:
The amount of space available to walk and move around
The layout of the space within the wardrobes
The number of things to be stored within the walk in robe
The way in which items need to be stored
Contact us at Flexi Wardrobes in Perth for all your teenager's wardrobe storage solutions
on 08 9301 4200.
October 27, 2017