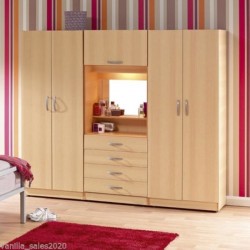 I am sure that I am not alone when I say that I just do not have enough room in my wardrobe to fit anything else in. That would be ok if i had all the clothes that I need, however I just do not have anything to wear this weekend and I will have to go shopping.
What am I going to do? I guess that I will need to buy an extra wardrobe as well, for goodness sake , why can't life be a little easier?
If this rings true with you as well, it is time to do something about your wardrobe storage solutions.
This is the time to bring in the professionals and discuss your wardrobe storage needs.
Wardrobe Specialists In Perth
When you bring in the experts, you are engaging with people who have years of experience in all things wardrobes. They will be able to advise you on storage solutions that will work for the available space you have in your room.
Flexi are the experts in wardrobe design and manufacture. Flexi will come to your home to look at your available space and give you an accurate quote for your new storage system. This service is the foundation of the excellent service provided to all Flexi customers.
For truly perfect, beautiful and functional wardrobes WA has to offer, discerning customers have been coming back to Flexi wardrobes and doors in WA for more than 15 years. With industry experienced Flexi designers and qualified tradespeople who treat your home with respect, installing Flexi wardrobes is a stress free and enjoyable experience.
Flexi customers receive:
Quality design and workmanship
Strong wardrobe shelving
Friendly and courteous staff
Punctual delivery and installation
The ability to work within their own budget
Experienced Flexi storage designers who listen, understand and create the ideal storage solution for each customer's specific needs
A vast range of custom built robes, cabinetry, fixtures, custom sliding or hinged robe doors, and fittings
Colour and style choices in wardrobes that will compliment your home
Qualified tradespeople who demonstrate care and consideration
Do yourself a favour and contact the team at Flexi for more information about our custom designed wardrobes and storage solutions. Make an appointment for your free home visit and quote.
You will be pleasantly surprised at how affordable custom robes can be from Flexi in Perth, WA.
See for yourself how a Flexi robe will compliment your décor and enhance your bedroom. For your free home consultation make an appointment with one of our team today on (08) 9301 4200.
January 12, 2017