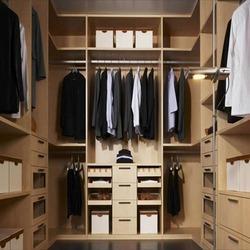 Choosing between a custom built in wardrobe or walk in robes, is a matter of personal needs and taste. Today in Perth, WA there are many types of wardrobe storage to choose from and it is all about how much storage do you need and how much space do you have.
Custom Built In Wardrobes
For those of you who have purchased a home which does not have any form of wardrobe storage in the bedrooms, generally a well designed built in wardrobe spanning the widest wall in the room is the best option.
Custom design and smart fit out inside the robe, will provide storage from ceiling to floor, incorporating all the hanging space, shelving and drawers in the one unit, removing the need for extra bulky furniture items in the bedroom.
Walk In Wardrobes
Walk in robes, like fitted wardrobes, can be installed from floor to ceiling to maximise every inch of available space.
Clever design and innovative storage solutions for clothing and accessories can also be configured to suit your personal needs, including drawers for lingerie, adjustable shelving for folded clothing, shoe racks, coat hooks, full-length mirrors, lighting and overhead storage for seasonal outfits.
Choosing to put a door on the walk in robes will provide security and added privacy.
Flexi Custom Wardrobes Perth
Flexi Wardrobes in Perth have been designing and manufacturing custom wardrobes for customers in Perth for more than 15 years.
One of the reasons that customers keep coming back to Flexi, is the standout quality and customer service.
You can enjoy a free home visit where your space that will become your new wardrobe, is accurately measured. You will be able to discuss your design ideas and what storage options are available to you.
The team from Flexi have many years of experience in creating smart and efficient storage solutions in WA, which they will readily share to help you achieve the perfect wardrobe system for your needs.
One of the best things about engaging the team at Flexi to design, create and install your new wardrobes is the fact that is it so easy.
Once you have decided on your design, colors and fittings, you can sit back and relax.
The qualified tradespeople from Flexi will treat your home with respect during the whole process to ensure it is a stress free and enjoyable experience. Contact the team to arrange a free home consultation on (08) 9301 4200.
March 8, 2019