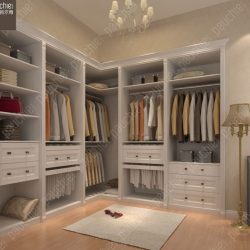 In all the excitement and anticipation of your new life together with your partner, something that needs to be considered is where are you going to put their stuff!
Yes, their stuff and it is not just about their collection of books, photos and memorabilia, it is their clothing!
You have most likely got your wardrobe sorted out to suit your needs perfectly and without an inch to spare, so where on earth are you going to put their clothes?
Even if you are happy to squeeze up your clothing to accommodate your partner's clothes, you will most likely need to take some of yours out.
It seems a terrible shame if you need to start culling your clothing just because you do not have enough room in the standard wardrobe space you have in your bedroom. Some very clever wardrobe design and use of available space will create a wealth of storage in your bedroom.
The fact is that most standard wardrobes have the basic hanging rail and a top shelf, which has proven to be completely unsatisfactory.
Have you ever been inside a caravan and noticed how much storage there is in such a small area?
This is because every single area has been used to optimise the entire area for storage.
This scenario can be applied to your bedroom at home, using all space available to solve storage challenges.
Instead of wasting money on purchasing free standing robes or shelving units, your money would be more wisely spent on custom built solutions in your bedroom.
Custom Made Wardrobes Will Keep Life Rosy In The Bedroom
Custom made and fitted wardrobes are an excellent way to get your bedroom working for you and the time to address this is right now.
Here at Flexi Wardrobes, our talented and very experienced wardrobe design team are able to look at your bedroom and gauge where you will gain extra storage space from.
They will take into account just how much height you have in your bedroom as well as the furniture you have in the room. You will be surprised at what can be achieved by our design experts without the need to knockout walls to increase bedroom floor space.
Our team will optimise the space you already have, by custom designing and installing your amazing new master bedroom storage for two.
By combining your dreams with our experience, comprehensive knowledge and extensive range of fixtures and fittings, we then create a 3D computer model of your wardrobes, bringing your vision to life.
Because we do all this in your home, at no cost to you, you are easily able to visualise your new wardrobes before they are even installed. Adjustments, alterations or additions can then be made on the screen until you are entirely satisfied with the result and confident of the outcome.
Make your appointment today (08) 9301 4200.
March 13, 2018