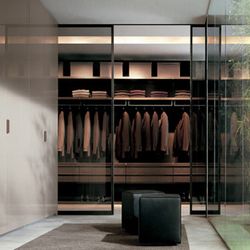 People are individuals with different lifestyle choices, and whether you live in a large home or a modest apartment, there are some very good reasons for you to consider choosing custom wardrobes in Perth.
With the right wardrobe storage solution, your life can be so much easier, especially in the mornings when you are preparing for your day.
With a smart organised wardrobe system you will be able to store all of your clothing, accessories and personal items, neatly and securely.
Some reasons to choose custom built wardrobes include:
Using all the available space for storage options
A design that gives you the exact hanging rail heights
Ample shelving for your folded clothing
Adequate shoe storage
Drawers for smaller items
Lockable storage for valuables
Practical display options for accessories
Lighting
Doors to match the decor in your bedroom
You can put your own personal touch to the design, keeping the design simple or choosing to go really big and luxurious with luxurious high-end finishes on your wardrobes and doors and any combination of wardrobe storage for your clothes, shoes, hats and accessories
Custom design means it is all about your needs and your own personal taste!

Flexi Custom Wardrobes In Perth
If you have a large space, the ultimate in luxury is a gorgeous walk in robe big enough to become a dressing room, where you can try on several outfits before making your selection.
It really comes down to the space you have available, because if you have the space for a walk-in wardrobe, then this is the ultimate in luxury.
Some of us do not have this additional space, however with custom wardrobes and matching doors, you can still have an awesome organised wardrobe space for your clothing and accessories.
By contacting the team at Flexi Wardrobes in Perth, you can arrange to have a free consultation at home where you can discuss all the options available to you as well as your particular storage needs.
The team from Flexi have been helping their customers for many years, with innovative ideas for their storage solutions at home. So, If you are ready to become more organised in the mornings with a practical and functional wardrobe system, contact the team on 08 9301 4200 or complete their online enquiry form for more information.
May 28, 2019