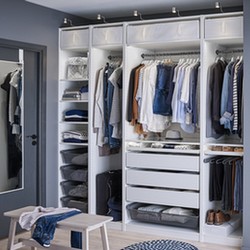 We all know what a struggle it can be in the morning if we can't find anything to wear.
The wardrobe is brimming with clothes but we just can't find a thing.
Of course we finally do find something that has been squashed in the wardrobes with everything else, and then we have to iron it again because it is so creased.
This process is quite time consuming when we could be doing something else.
If you are a busy person and you want to get more organised in your mornings, give us a call at Flexi Custom Wardrobes and let us show you how easy it is to create the perfect wardrobe storage system for you.
Whether you want a built in wardrobes or a walk in wardrobe, our team can design, manufacture and install the system that will suit your needs.
Smart Storage Solutions With Flexi Quality Custom Wardrobes
Here at Flexi we believe every customer deserves the personal touch.
Beautifully functional custom designed wardrobes will transform your home.
Making the very best use of an innovative wardrobe design, the quality of our robes is matched only by the quality of our customer service.
You need a wardrobe system that is fully organised and gives you enough room to hang all of your clothes without becoming creased.
You will need room for your for your fold up clothes, hats, shoes and other accessories.
It is surprising at how little space you really need for a walk in robes, when the robe area is organised efficiently and there are no wasted spaces.
You can choose to have as much hanging space as you need, whether full length for dresses and trousers or half length for shirts, or half half, it all depends on what your clothing dictates.
There are so many extra items that we need storage for, such as our hats, scarves, belts, shoes and handbags.
Don't forget if you have a lot of fashion jewellery, having a display area and mirror in your robe will be so convenient when you need to select which pieces to wear with your outfit for the day.
So if you are ready to make your mornings a lot more organised at home, give some serious thought to a custom designed wardrobe.
A custom walk- in wardrobe made to order will solve all of your wardrobe storage problems once and for all.
Call Flexi Wardrobes on 08 9301 4200 or complete our online enquiry form and we will come out, measure your space and design the perfect wardrobe solution for your lifestyle.
June 1, 2017